Captain Dave Peck| email: fishmedave@hotmail.com | tel: 252.475.9760
»
10/8/19 | The past week
Got out a couple times last week with some good friends. Wasn't that much going on either day and we did not get our share of bites either day. Thankfully both groups have stomped the fish with me in the past and totally understand!!! This is from Thursday. George , Wendell and Dennis had a pretty nice day and we managed to catch 6 tuna including. A couple 50 pounders the last hour. This week weather is impossible but hopefully this cool NE wind will bring some more yellowfin into the picture for the beginning of the week. Thanks for checking in Dave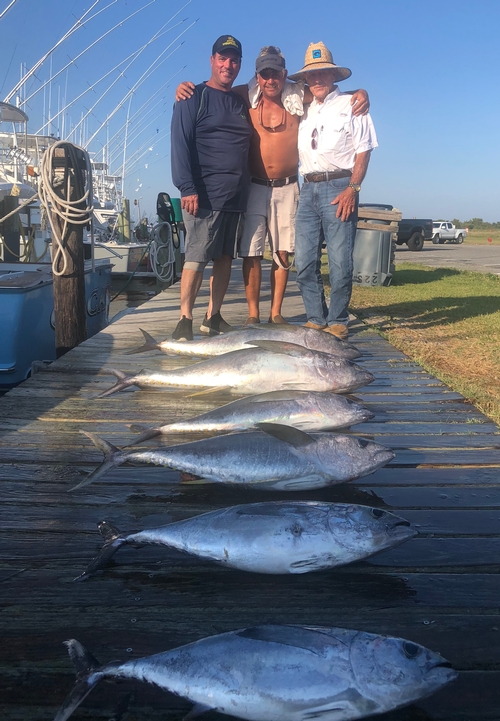 »
9/28/19 | 9th inning rally.
Always good to see Angelo and the boys for a day of fishing !! Most of the day was slow for us. Weather was beautiful but not much happening. About 12 pm I heard something on the radio and took a gamble running way out to the east. It paid off !!! Great catch of mahi - some of them gaffers. And a 65 pound yellowfin to go with the sailfish release and a handful of blackfin from the morning. Glad our move paid off !!!!! Thanks fellas. Dave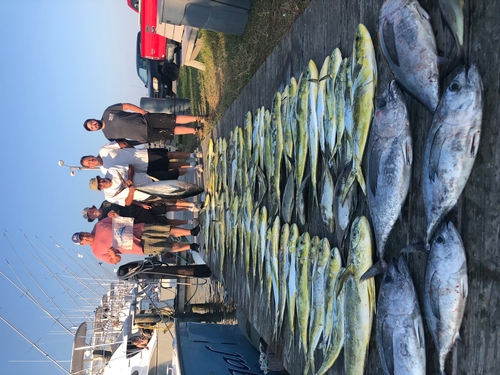 »
9/27/19 | Action action
Great to have Nabbie , Robbie and the boys from Norfolk back again !!!! We headed south with the stiff NE breeze up the road. 3 yellowfin and a bunch of small and med blackfins kept the boys busy for a good while. Although not that big , the smaller blackfin taste exactly like yellowfin and we are glad to have them as an option. Was a bit choppy today. Hopefully tomorrow is calmer. Thanks guys. Dave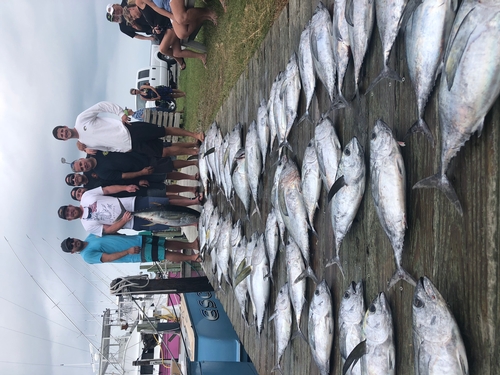 Round 2 for Doug , Dustin and the boys from PA !! Went back up to the north and found some yellowfins. Couple mahi for some fish tacos. Really nice most of the day but the ride home was a little bumpy. Glad to see some more yellowfin Thanks boys Tight lines Dave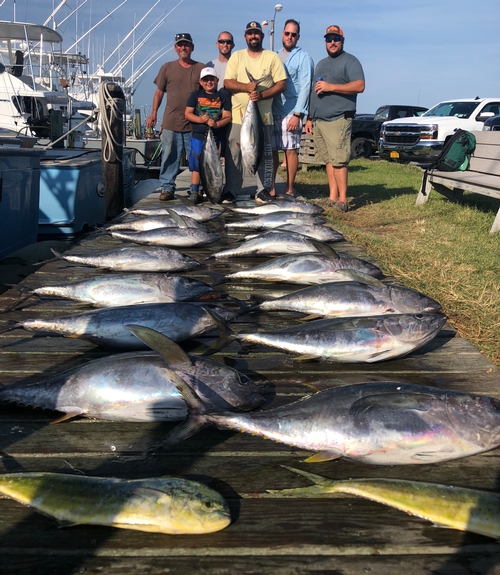 »
9/25/19 | Great overnight trip
Thanks to our good friends Billy , Todd , Nate. , Phil the thrill , and Jason !!! Weather was better than expected and the fishing was super too. Nice to see a limit of yellowfin !!! Some of them in 50 pound range. All the mahi we wanted as well. Congrats to Pjil on his 60 pound citation wahoo and to Jason for his very first White Marlin release !!!!! We did hook a swordfish about midnight but we did not catxh him. Hopefully some of these yellowfin will stay around a while. Tight lines. Dave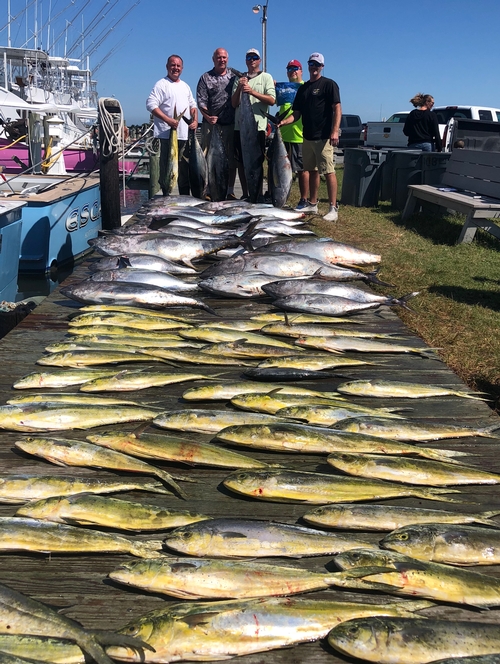 Good dolphin fishing for my cousins from PA !!! Monday was a really pretty day on the water. Caught a handful of decent blackfins in the morning and then found some grass and caught 56 mahi. Jordan's first trip and he caught his first tuna and dolphin !!! Thanks boys Dave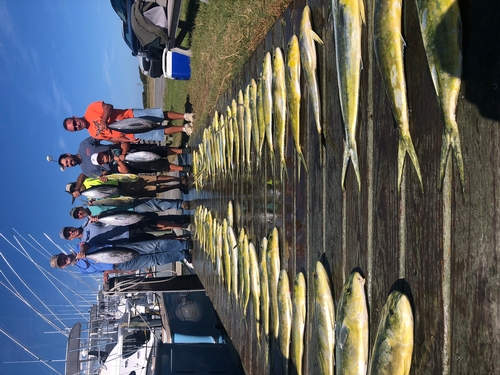 »
9/12/19 | Back out there. !!
Thanks to Jeff for organizing today trip !!! He brought some of his family including his father We headed south in search of tuna and mahi. As you can tell the tuna cooperated. Not much on the mahi in that neck of the woods but Jeff did boat a nice 32 pound gaffer bull !!! Glad to be out on such a pretty day !!! Thanks guys Dave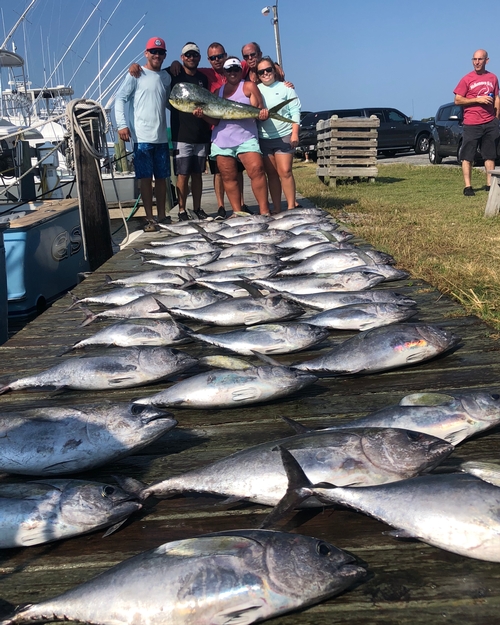 »
9/3/19 | Blue marlins and mahi
Really cool day with some good friends. Charlie , Phil , Jill and Scott endured a sloppier sea than expected the first part of the day. But it was worth it. Charlie released a Bkue marlin close to 400 pounds while Scott got one about 200 pounds that jumped at least 50 times !!!! Crazy. A while later Phil releases a really good sized white marlin. We also caught some good sized mahi around a big bed of grass. Bert and I thank you guys for a fun day !! Dave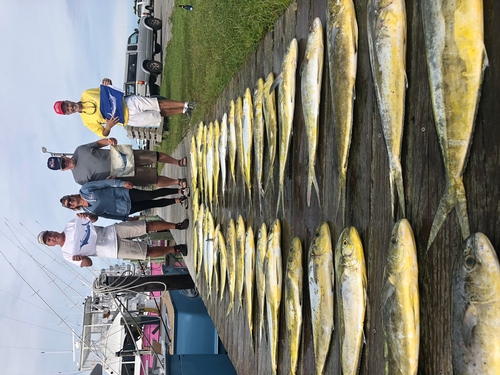 »
9/1/19 | Saturday Blacfins.
Great to have Richard and his crew back aboard. Another perfect weather day !! We headed down towards the point and found the blackfins biting really well. It didn't sound like much else going on nearby so we fished for them for a good part of the day and ended up with a really nice catch. Another really enjoyable day. Thanks guys. Dave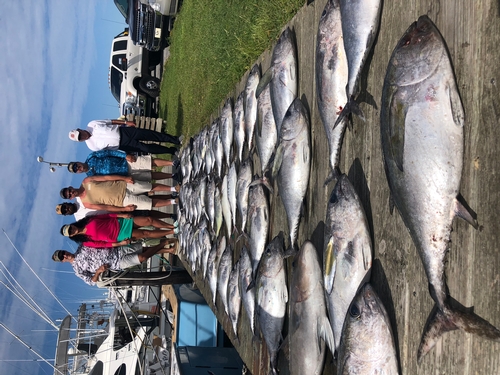 »
9/1/19 | Marlin and Mahi
Thanks to my longtime friend Chip for booking us Friday. The target was billfish with something for dinner if possible. Perfect weather and a fun day. Easton , on his first ever trip to the Bluewater did battle with a nice blue marlin. !!!! This thing tore up the surface and put on a show !!! He was released boatside to fishht another day. Chipper also released a nice white on light tackle and towards the end of the day we found some rope floating and caught some nice mahi. Fun day for everyone. Including Bert and Myself. Tight lines Dave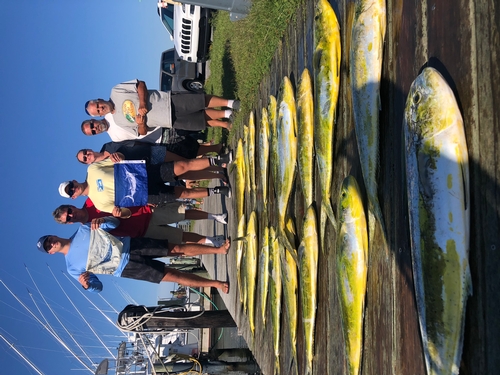 »
9/1/19 | Va Beach. VBBT
Last thurs thru sat we fished the tourney in Va Beach. Weather and fishing was tough. We ended up 11th place out of 79 boats. Thanks to Randy , Carlos , Scott , and Chris for being our team. We caught the 3 white marlin that we had bites from. 2 more and we could have won !!! We'll get em next time. Tight lines Dave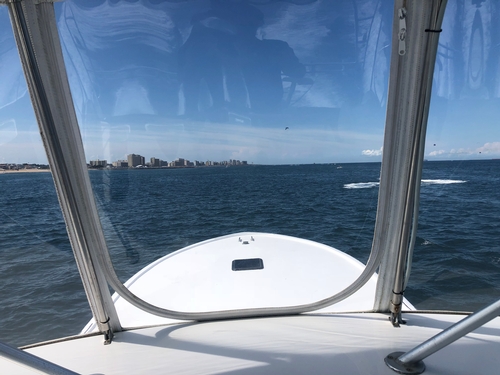 Had some home cookin on the boat Wednesday!! Abbott, Stanley , Eugene , Alan , Brad and young Sawyer. Weather go a little bumpy in the afternoon as expected. Fishing was scrappy. Did manage a nice yellowfin , a couple Blackfin , a handful of mahi and a nice wahoo. Never saw a billfish like we had hoped. 8 year old Sawyer looks pretty happy holding up that nice yellowfin !!! Va beach billfish tourney gets rolling tomorrow as pretty much everybody took their lay day today !!! Thanks for checking in !! Dave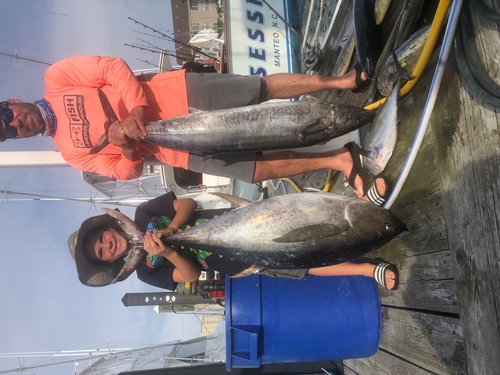 »
8/22/19 | Tuesday mixed bag
Randy sent some more fellas to us on Tuesday. Randy , Sergio and the boys caught a mixed bag of delicious fish. Wahoo , mahi , sea bass and tilefish. This was the last pretty day for a while. !!!! Glad we could get out there. Tight lines Dave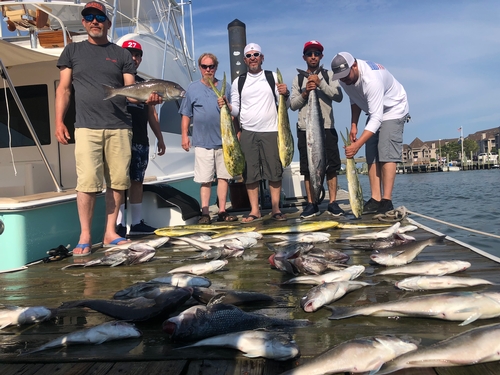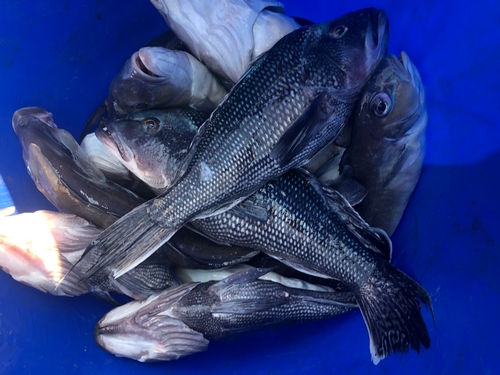 »
8/22/19 | Monday report.
Still in va beach for the tournament late in the week. Randy sent some of his best workers out for a day on the water. We caught a mix of wahoo mahi sea bass tilefish and grouper. Milton and the guys had fun and will be eating some supreme fish !!! Tight lines Dave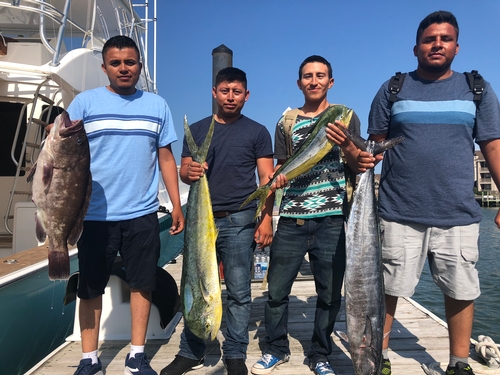 »
8/22/19 | Va beach ladies tourney.
Missy and her girls were back for more !!! Weather was iffy but we gave it a go. Young Summer and Becca ( both 8 yrs old ) did fantastic. We caught a bunch of nice mahi. But no billfish sighting. As you can see the girls decorated the heck out of the boat and had a good time showing it off at the dock !!!! Always a fun day. Thanks ladies !!! Dave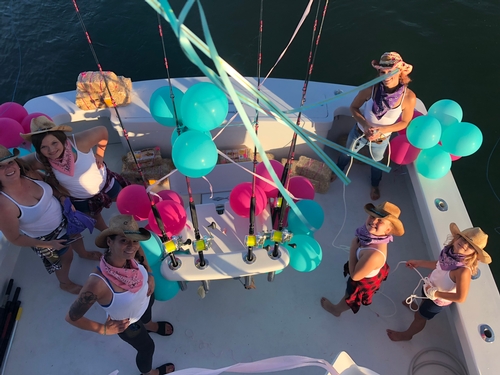 »
8/22/19 | Last Wednesday
Sorry for lack of reports. Been traveling and busy. This was last week. This day the fishing center put togerther a really nice group of guys for a make up. Trolling was pretty slow. Found GIANT beds of grqaa but no mahi. Eventually we ended up bottom fishing and catching a mess of tilefish and a few nice Black Sea bass. At least the guys had a nice day and some fresh fish for several dinners !!!! Tight lines Dave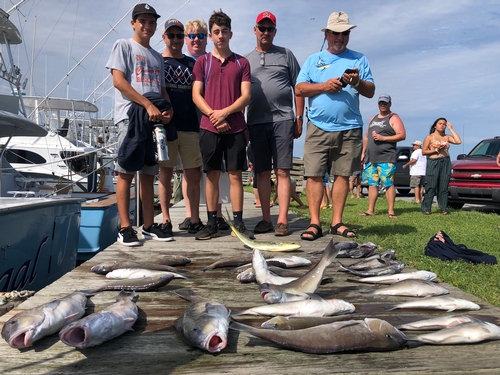 »
8/12/19 | Beautiful day !!!!
Thanks to Ken and his crew for our trip today !!! Weather was close to perfect. Trolling action was a little sparse but we did catch a couple yellowfin Covered a lot of ground and found 2 places of mahi. One was enormous but they didn't bite like they should have. But plenty good for one boat !!!! Our anglers did a really good job too !! Tight lines Dave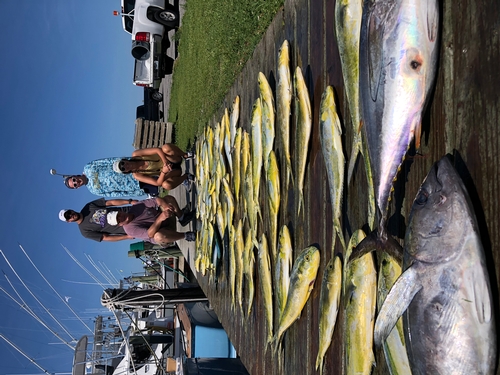 »
8/11/19 | Alice Kelly ladies day.
Today was a really fun day!!! Jenn and the girls were all in on catching some marlin. Weather was nice but the fishing was slow !! Thankfully just after lunchtime a nice blue marlin attacked our short rigger. Kathy was up to the challenge as she brought this est. 400 pd beauty to boat side. Really cool. We didn't get enough bites to win but we all enjoyed that so much. Back to meat fishing tomm. Tight lines Dave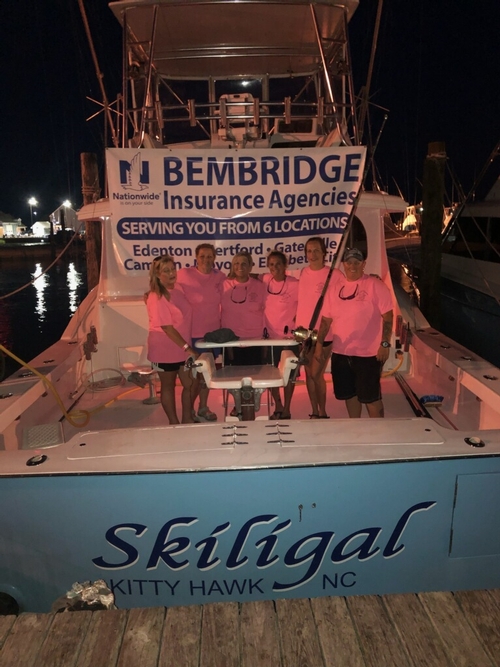 »
8/10/19 | Major mahi meat slam.
New friends onboard today. Ayrick and his son Michael were very busy this morning. There was a nice color change / grass line that was holding enough mahi for the whole fleet !!!! These 2 guys caught em non stop for a good while. Then we trolled around and found 4 yellowfin and a nice wahoo !!! Michael is quite the young fisherman. Captain was impressed !! Good fun for sure. Thanks guys Dave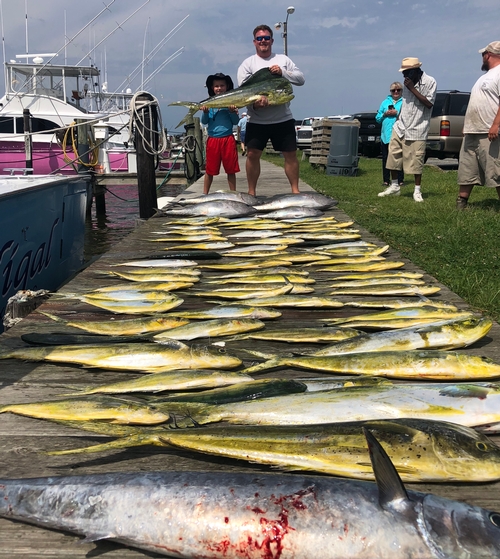 Great to have Vernon, John and the boys back out there. One of the most comfortable August days you will ever find. Cool breeze with just a couple sprinkles. The yellowfin were hard to come by for most boats. Thank goodness the tasty blackfin were biting. Ended up with a mixture of wahoo , yelllowfin , blackfin , and mahi. Thanks guys !!!! Tight lines Dave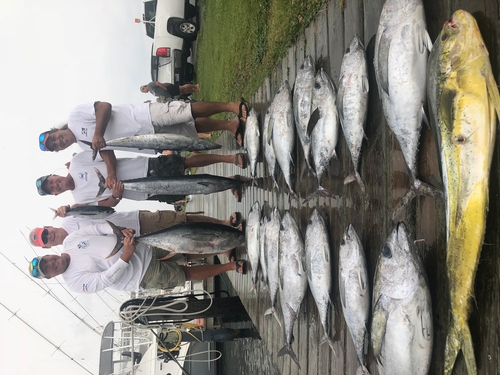 »
7/31/19 | Yellowfin and mahi
Great fishing again today. Thanks to Willlard for organizing today's trip and bringing his family n friends from WVA for their first offshore experience!!! Pretty weather and prettty fishing. 10 yellowfin and a nice mess of mahi kept them busy a good part of the day !!!! Great to see this type of fishing. Still open next 3 days if someone can make it. Thanks for checking in Dave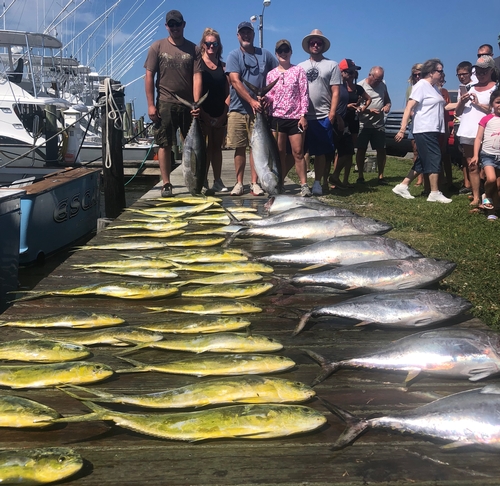 »
7/30/19 | Open Thursday Friday and Saturday
Just in case somebody wants to try it we are open thurs through sat and the weather looks nice. Call me at 252 202 4405. Direct. Thanks Dave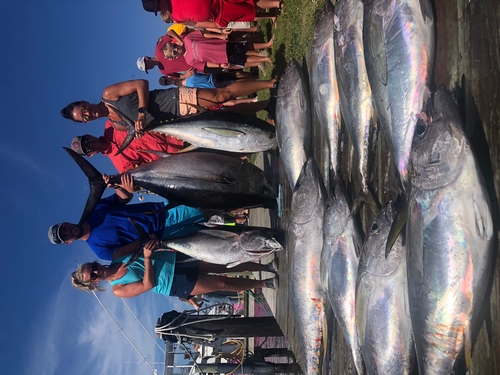 »
7/30/19 | 222 pound Bigeye
New friends onboard today. Bert and I had a good time with Erika, Bryce , Emily and Seth from PA. Tuna were biting well today and not too many sharks. Lost 1 Bigeye to them. Erika was our star angler , landing a whopper 222 pd Bigeye and also a 74 pound citation yellowfin. Another Bigeye and a mess of yellowfin pretty much filled the box. Perfect weather to boot. Thanks you guys. Fun day. Dave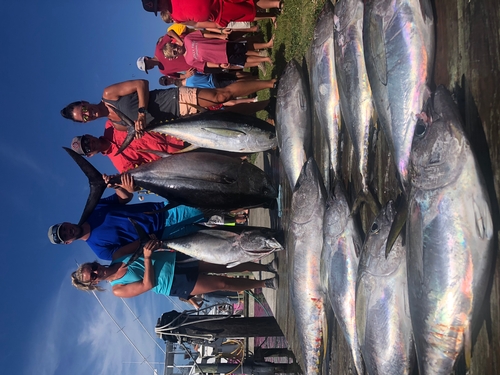 »
7/29/19 | Va beach marlin tourney.
Spent a handful of days last week in va beach with big Randy and his crew - Carlos , Scott , Chris , and Sammy. First day of tournament we later due to high seas. Second day was a good one for us. Won the daily award with 6 billfish. A blue and 5 whites. Last day we couldn't buy a marlin bite. Saw a blue that didn't bite and caught a nice mess of mahi. Thanks to Doc and Paula at Fisherman's Wharf Marina for all the hospitality Although not a huge tourney, definitely one of the best on the east coast of America !!!!! Will be charter fishing some this week so I'll try and keep you up to speed on the fishing Tight lines Dave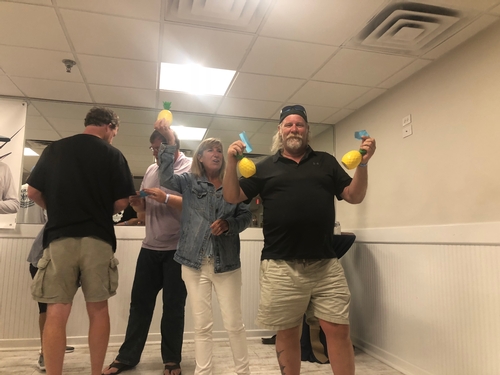 »
7/25/19 | Monday report.
We are in Va Beach now to fish the VB invitational marlin tourney. We got weathered out Tuesday. This pic is from Monday. Monday we had new friends aboard Skiligal. Nick and his family and friends were very patient. We headed back to where I've been getting plenty of Bigeye bites but conditions had changed a bit and fishing was slow. We worked out way down to the point area where just a few yellowfin had been caught early. Hooked a few yellowfin and the sharks got em. Caught a wahoo and got biit off by one or two more. Did manage to catch some tasty blackfins scattered through the rest of the day. Good fish on the grill anyway !!! Thanks guys Dave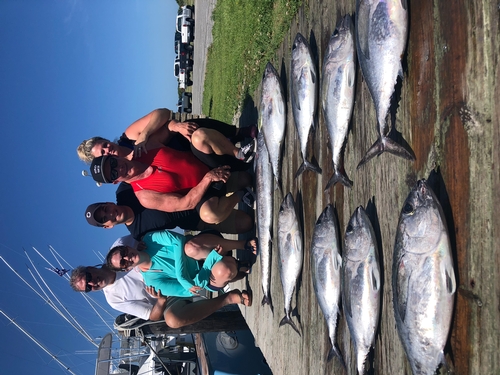 »
7/20/19 | Saturday tuna
Great to see my ol pal Johnny and his boys from Norfolk. Been a while since we have fished together. Weather was ok although it did get choppy late in the day. We had a ton of bites and did lose some to sharks , but were on the fortunate side with our catch. 3 small bigeyes in the 75-90 pound range. Some nice yellowfin too !!!! It added up to a good catch. Off tomorrow and then back at it Monday. Thanks for checking in Dave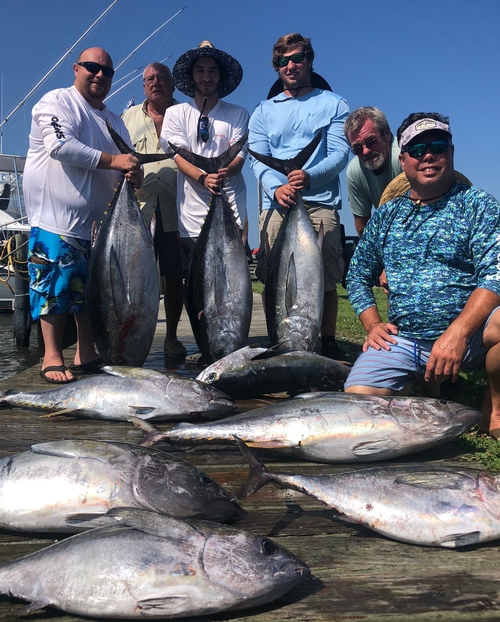 »
7/17/19 | Double Bigeye meat slam.
Thanks to our good friend Bob for organizing today's trip !! Russ and the gang stayed busy this morning as we had steady action for a while. 2 Bigeyes , an 80 pound citation yellowfin, a handful of other nice tunas , a couple wahoos and a couple nice gaffers. A couple nice blackfin too. Things slowed down a bit before lunchtime , but with almost a box full who can complain !!! Great weather too !!! Fun day. Thanks guys. Dave'
»
7/17/19 | Tuesday Bigeye bites.
Thanks to Cyrus for organizing Tuesday's trip !! He is a local and if you ever want a couple great cocktails and some killer steamed food go see him at Tortuhas Lie in nags Head. We spent the first 30-40 percent of our day looking for mahi. Covered a ton of ground be found enough grass to fill up a soccer field. Only 2 gaffers but both of our junior anglers caught them so that was coolness. We then jogged up to the tuna hole and had 2 cracks at the Bigeyes. Hd a bunch of bites the first time but the sharks took everything. Next go around we hooked 8 Bigeyes at once. Got 4 to the boat and 3 in the boat. One of three a pretty nice one for Bear !!! Perfect weather was a nice treat. Thanks guys. Dave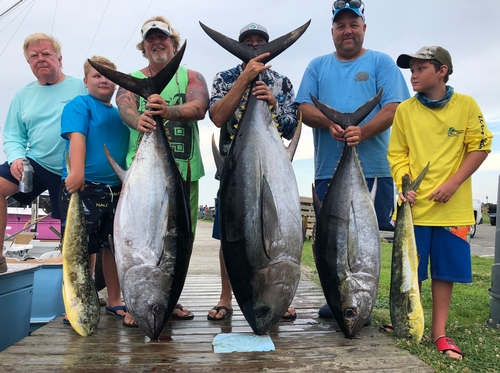 Great to see my good friends Randy and Charles and their family !!! We headed North in search of less turbulent conditions and hopefully no sharks. The trolling action proved to be slow. We landed a couple yellowfin and a few small gaffer dolphin. Thankfully the delicious Tilefish were biting pretty welll. The gang caught a limit of them in less than an hour. With a few of them approaching 10 pounds. We ended the day with a crazy flurry from the sharks They abnormally attacked our trolllled Ballyhoo and we hooked several at once. Emily had the biggest one on the line. Sh brought it to the boat and released it. Probably 200 pounder. Pretty strong fight. Thanks guys. Fun catching up and hanging out. Tight lines. Dave