Captain Dave Peck| email: fishmedave@hotmail.com | tel: 252.475.9760
»
5/16/20 | Tuna mahi and marlin.
Nice to have Gary , Richard and the boys aboard again. Weather got really pretty and we had a great day. Picked away about a half a limit of mostly gaffer sized dolphin. Then we hooked a blue marlin that went absolutely nuts alll over the ocean. Hunter did a great job getting the release !!!!! Then we hit the nice yellowfin late in the day to FILL THE BOX !!! Gotta be thankful for days like today !! Thanks for checking in Dave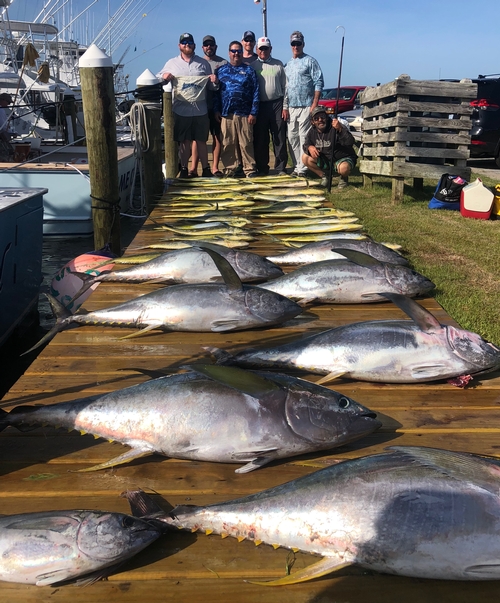 »
5/16/20 | First day back.
Thanks to Chris for sending Billy and the boys down our way for some fishing. Super cool bunch of guys. Currrent had picked up way too much and fishing was scrappy. Glad to catch some nice yellowfins and some other stuff too. Sharks are a few yelllowfin off our lines and we released a bunch of good sized sharks. Plenty of action Tight lines Dave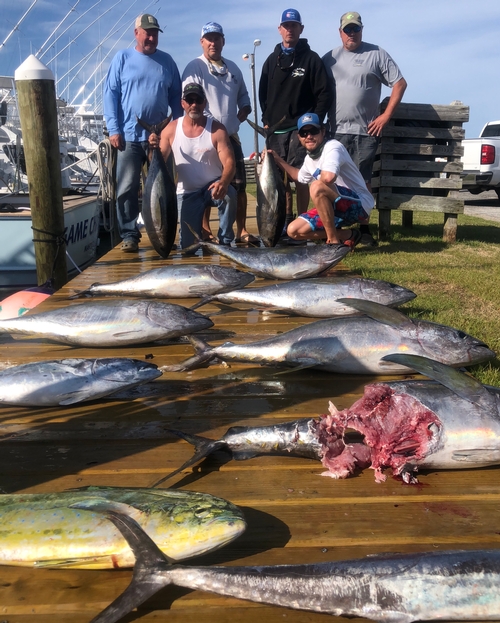 »
5/7/20 | OBX opening back up.
The outer banks is opening to visitors on sat may 16 ans we are excited to get back fishing with our friends. Most restaurants and hotels will be open. An occasional boat or two has been getting out with local customers. This is another boat from Tuesday. A limit of yellowfin tuna !!!!! We have a couple days open later in June and our up to date schedule is on Oregon inlet.com. Bert and I have a solid plan to clean / disinfect the entire cabin and all fishing gear after every trip. Cant wait to get started. Tight lines Dave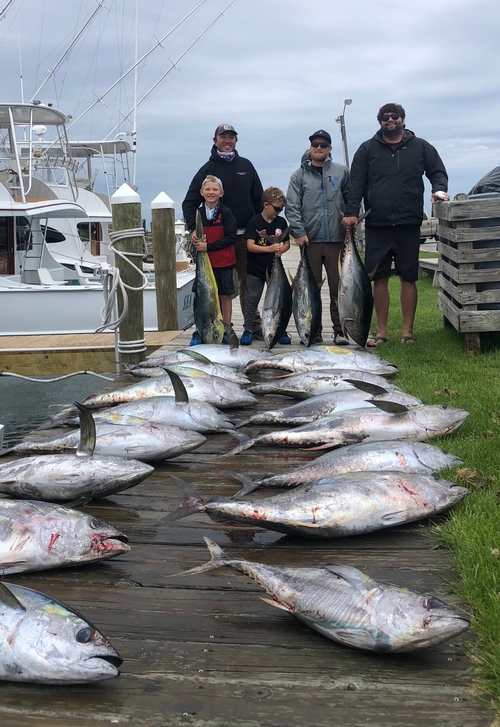 »
4/26/20 | Skiligal ready to go.
Bert has done a great job this winter getting Skiligal ready to roll He polished and waxed the entire hull as you can see from this pic. New batteries and improvements to our electrical systems We are hopeful that by May 15 we will be open to visitors / our friends and able to go catch some tuna and mahi. If you have a trip booked May 15 or later let's hope for the best and stay careful and safe.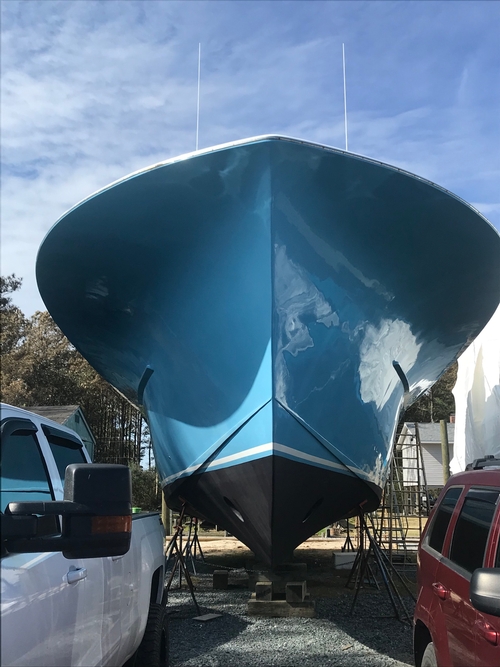 »
4/26/20 | April update. May possibilities
I hope that all of our friends have been staying safe in the uncertain times of late !! This pic is from yesterday. One of my last trips in Fla ..... my good friend Wayne with a really nice shallow water cubera snapper. Wayne and I shared lots of fun days this fall / winter with a huge variety of fish.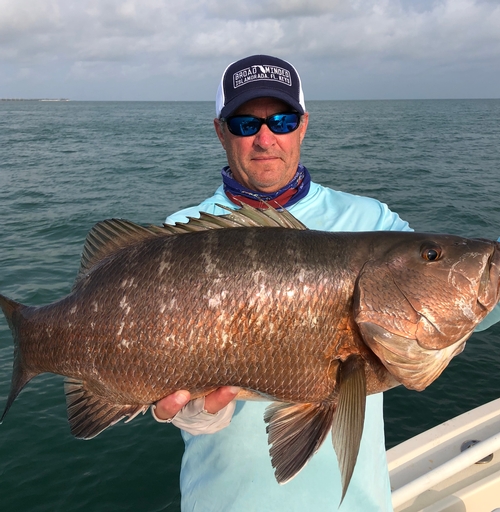 Randy with his first ever permit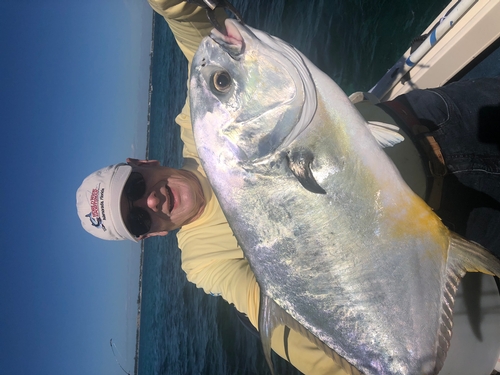 Vic and Randy with a nice snook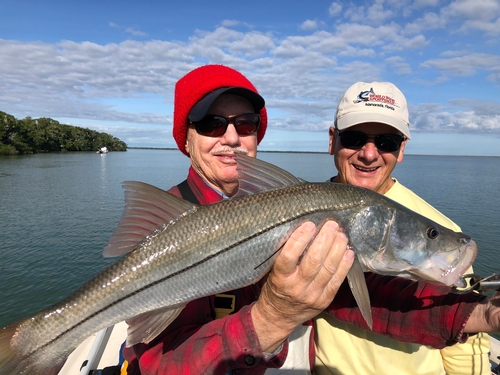 Greg with one of the many snook he caught in the backcountry
Van with a tarpon he caught casting in the mangroves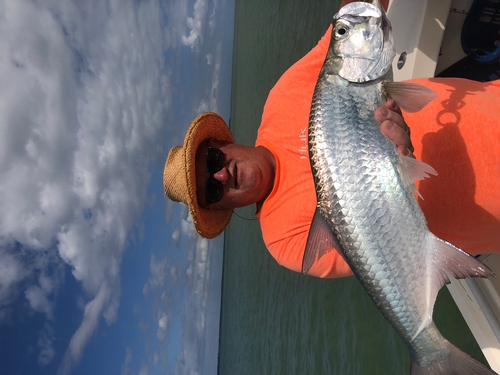 Capt Wayne with a really nice snook he got on artificial!!!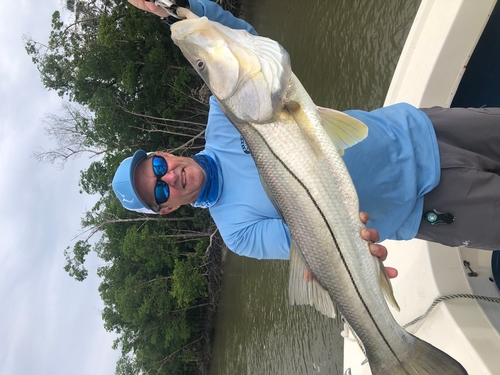 »
12/8/19 | Mutton snapper
My friend Jason with a nice light tackle mutton snapper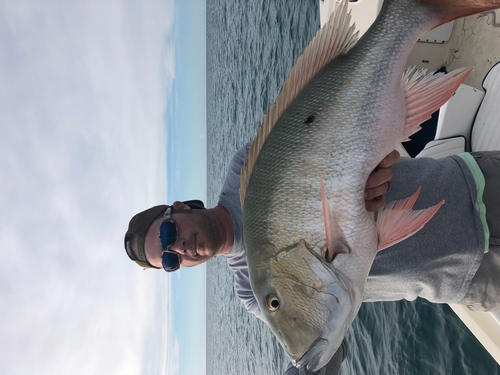 My buddy Doc with his first permit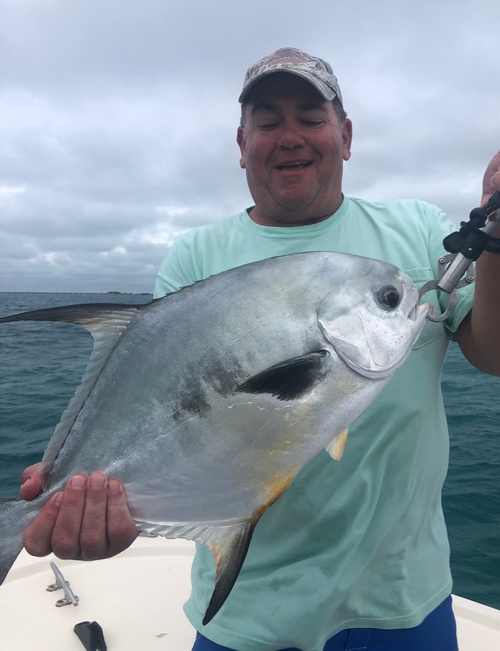 »
12/8/19 | Florida report
Been in the Keys for a month or so now. Fishing has been great but backcountry has been really active !!! This is my dear friend Paula from fisherman's wharf marina with a nice snook!! I will be down here through April if anyone wants to go light tackle fishing give me a call. 252 202 4405. We will kick off the Skiligal season Friday May 1. We have openings the first couple weeks of May right now. Hope everybody has a great holiday season Dave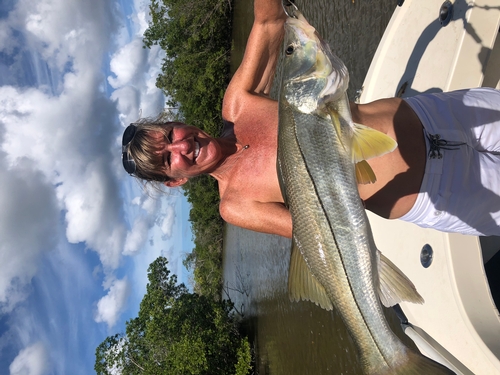 »
10/28/19 | Friday report
Thanks to Ginger and her crew for going fishing with us. We enjoyed a perfect day weather wise. I do mean PERFECT. We managed a nice catch of 7 tuna and 3 wahoo amongst a huge fleet of boats. Glad that everyone had a good time and plenty of fish for the grill !!! Thanks guys. Dave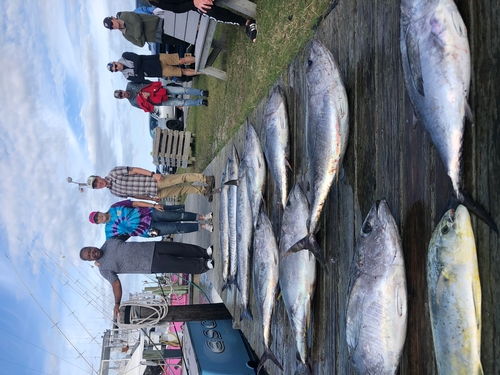 »
10/24/19 | Saturday report.
Had new friends onboard last Saturday and we all enjoyed a nice calm ocean. We were part of a 4 boat group. The mahi fishing was great east of the inlet with every boat catching plenty of mahi. We caught a nice wahoo trolling and the guys we're ready to get in a little bit early. There were a few boats that headed north a good ways and did find some yellowfin tuna. Good sign and water conditions and weather say that they might hang around for a while !!! Tight lines Dave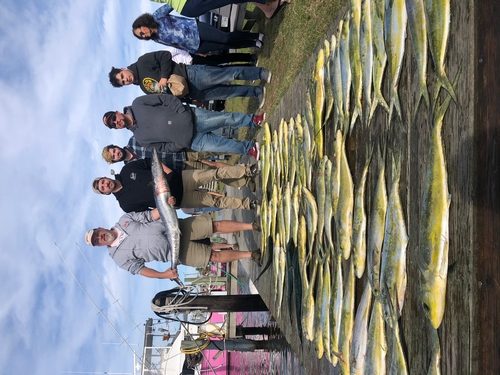 »
10/17/19 | Tuesday report
Had our friends from Arlington VA back aboard !! Weather was finally pretty...... after turning around on Monday morning. The smaller tuna bit pretty well early in the morning but things slowed down after that. We lost a couple wahoos that bit ya off. One was a monster right at the boat almost to the gaff. Darn it. Looks like we'll get out this weekend some. Tight lines Dave
»
10/8/19 | The past week
Got out a couple times last week with some good friends. Wasn't that much going on either day and we did not get our share of bites either day. Thankfully both groups have stomped the fish with me in the past and totally understand!!! This is from Thursday. George , Wendell and Dennis had a pretty nice day and we managed to catch 6 tuna including. A couple 50 pounders the last hour. This week weather is impossible but hopefully this cool NE wind will bring some more yellowfin into the picture for the beginning of the week. Thanks for checking in Dave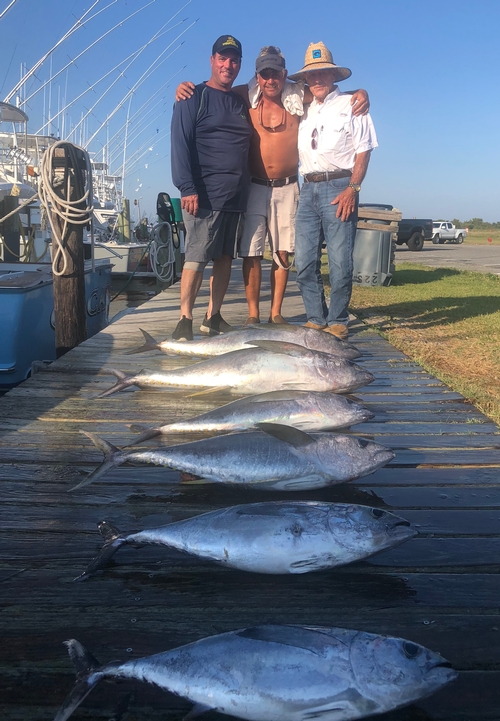 »
9/28/19 | 9th inning rally.
Always good to see Angelo and the boys for a day of fishing !! Most of the day was slow for us. Weather was beautiful but not much happening. About 12 pm I heard something on the radio and took a gamble running way out to the east. It paid off !!! Great catch of mahi - some of them gaffers. And a 65 pound yellowfin to go with the sailfish release and a handful of blackfin from the morning. Glad our move paid off !!!!! Thanks fellas. Dave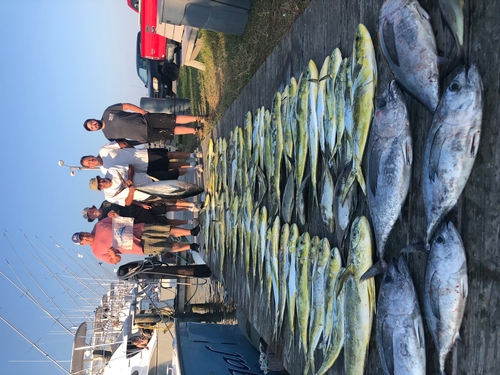 »
9/27/19 | Action action
Great to have Nabbie , Robbie and the boys from Norfolk back again !!!! We headed south with the stiff NE breeze up the road. 3 yellowfin and a bunch of small and med blackfins kept the boys busy for a good while. Although not that big , the smaller blackfin taste exactly like yellowfin and we are glad to have them as an option. Was a bit choppy today. Hopefully tomorrow is calmer. Thanks guys. Dave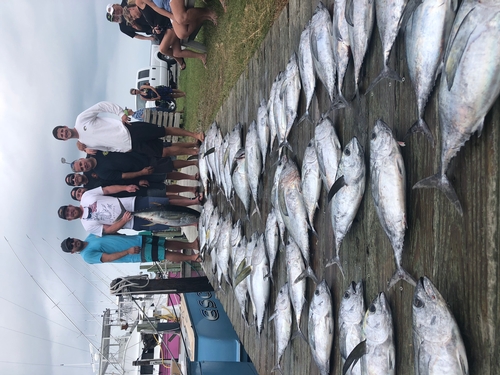 Round 2 for Doug , Dustin and the boys from PA !! Went back up to the north and found some yellowfins. Couple mahi for some fish tacos. Really nice most of the day but the ride home was a little bumpy. Glad to see some more yellowfin Thanks boys Tight lines Dave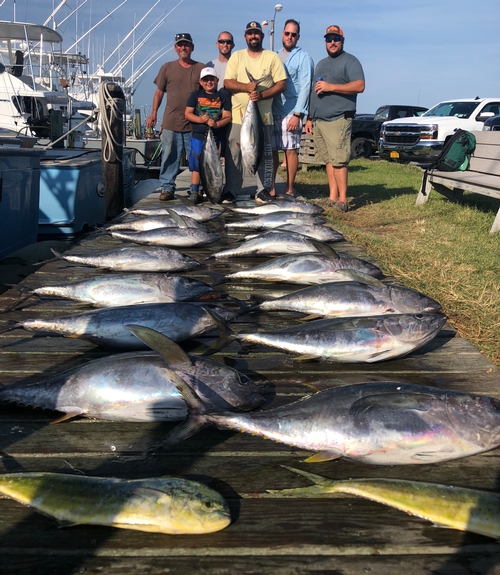 »
9/25/19 | Great overnight trip
Thanks to our good friends Billy , Todd , Nate. , Phil the thrill , and Jason !!! Weather was better than expected and the fishing was super too. Nice to see a limit of yellowfin !!! Some of them in 50 pound range. All the mahi we wanted as well. Congrats to Pjil on his 60 pound citation wahoo and to Jason for his very first White Marlin release !!!!! We did hook a swordfish about midnight but we did not catxh him. Hopefully some of these yellowfin will stay around a while. Tight lines. Dave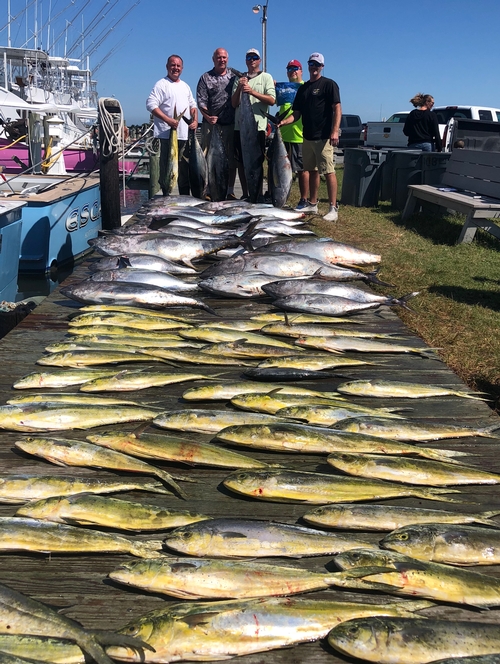 Good dolphin fishing for my cousins from PA !!! Monday was a really pretty day on the water. Caught a handful of decent blackfins in the morning and then found some grass and caught 56 mahi. Jordan's first trip and he caught his first tuna and dolphin !!! Thanks boys Dave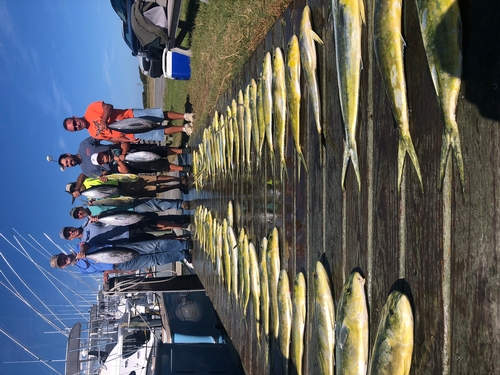 »
9/12/19 | Back out there. !!
Thanks to Jeff for organizing today trip !!! He brought some of his family including his father We headed south in search of tuna and mahi. As you can tell the tuna cooperated. Not much on the mahi in that neck of the woods but Jeff did boat a nice 32 pound gaffer bull !!! Glad to be out on such a pretty day !!! Thanks guys Dave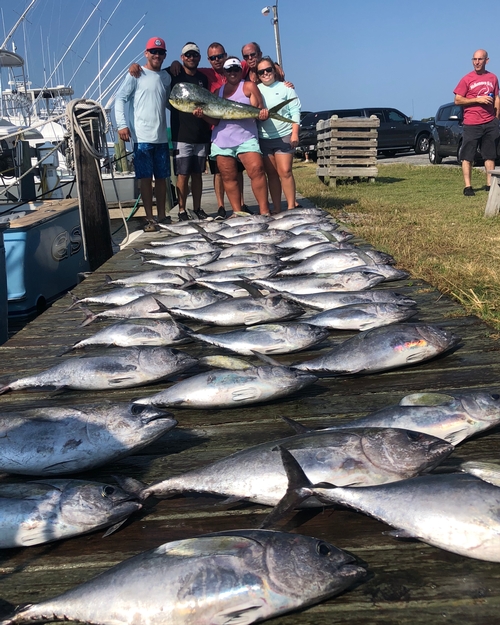 »
9/3/19 | Blue marlins and mahi
Really cool day with some good friends. Charlie , Phil , Jill and Scott endured a sloppier sea than expected the first part of the day. But it was worth it. Charlie released a Bkue marlin close to 400 pounds while Scott got one about 200 pounds that jumped at least 50 times !!!! Crazy. A while later Phil releases a really good sized white marlin. We also caught some good sized mahi around a big bed of grass. Bert and I thank you guys for a fun day !! Dave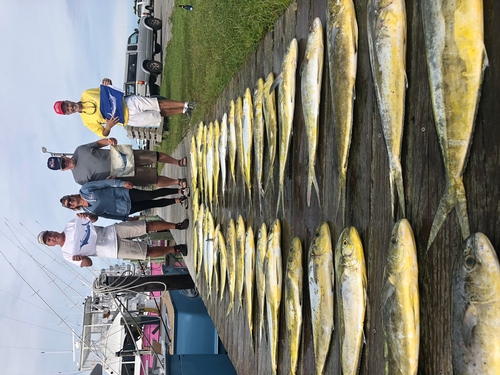 »
9/1/19 | Saturday Blacfins.
Great to have Richard and his crew back aboard. Another perfect weather day !! We headed down towards the point and found the blackfins biting really well. It didn't sound like much else going on nearby so we fished for them for a good part of the day and ended up with a really nice catch. Another really enjoyable day. Thanks guys. Dave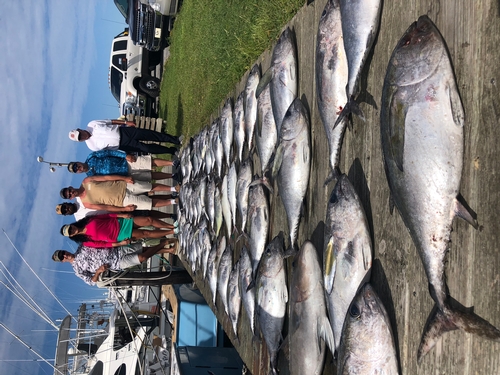 »
9/1/19 | Marlin and Mahi
Thanks to my longtime friend Chip for booking us Friday. The target was billfish with something for dinner if possible. Perfect weather and a fun day. Easton , on his first ever trip to the Bluewater did battle with a nice blue marlin. !!!! This thing tore up the surface and put on a show !!! He was released boatside to fishht another day. Chipper also released a nice white on light tackle and towards the end of the day we found some rope floating and caught some nice mahi. Fun day for everyone. Including Bert and Myself. Tight lines Dave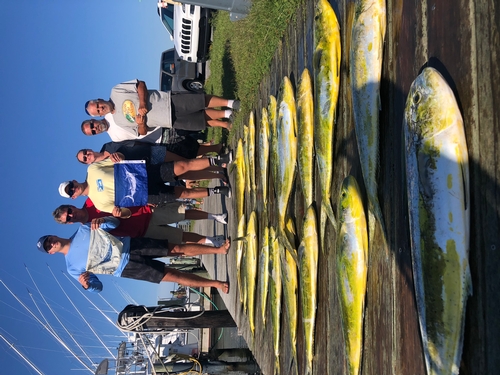 »
9/1/19 | Va Beach. VBBT
Last thurs thru sat we fished the tourney in Va Beach. Weather and fishing was tough. We ended up 11th place out of 79 boats. Thanks to Randy , Carlos , Scott , and Chris for being our team. We caught the 3 white marlin that we had bites from. 2 more and we could have won !!! We'll get em next time. Tight lines Dave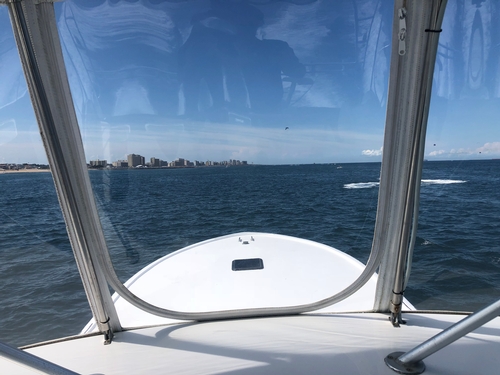 Had some home cookin on the boat Wednesday!! Abbott, Stanley , Eugene , Alan , Brad and young Sawyer. Weather go a little bumpy in the afternoon as expected. Fishing was scrappy. Did manage a nice yellowfin , a couple Blackfin , a handful of mahi and a nice wahoo. Never saw a billfish like we had hoped. 8 year old Sawyer looks pretty happy holding up that nice yellowfin !!! Va beach billfish tourney gets rolling tomorrow as pretty much everybody took their lay day today !!! Thanks for checking in !! Dave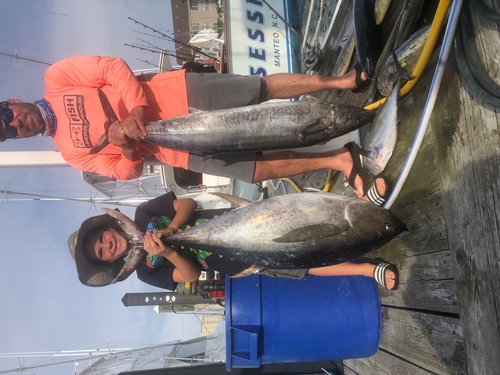 »
8/22/19 | Tuesday mixed bag
Randy sent some more fellas to us on Tuesday. Randy , Sergio and the boys caught a mixed bag of delicious fish. Wahoo , mahi , sea bass and tilefish. This was the last pretty day for a while. !!!! Glad we could get out there. Tight lines Dave