Captain Dave Peck| email: fishmedave@hotmail.com | tel: 252.475.9760
»
6/25/19 | Scrappy double meat slam
Thanks to my good friend Pete for rounding up the guys for another day on the Skiligal!!! The first couple hours were OK as we caught 2 wahoos 2 mahi and 2 yellowfin. Then after that tuna bites were slow to come and the sharks ate up a couple Bigeye and a couple yellowfin. They were extra bad today for th fleet. We will see what tomorrow brings Thanks guys. Dave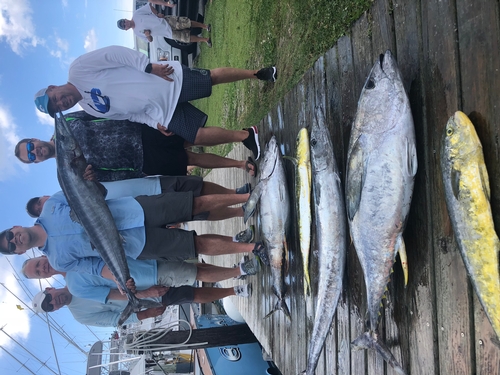 »
6/24/19 | Monday tunas and sharks.
Great to have Charlie and Phil and the gang back for another adventure!! Nice weather day again with light S wind. Sharks were a problem today. We hooked several Bigeyes and we only got one partial fish to the boat. They also took a couple yellowfin away from us. Anyway a couple hundred pounds of meat will go nicely on the grill. And we managed to get another meet slam !! Tomorrow is a new day !!!! Thanks guys. Dave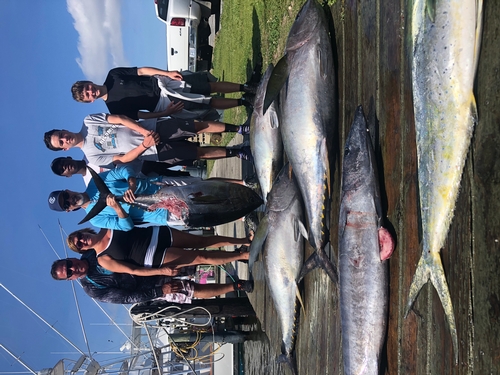 3 more Bigeyes today for Gary and his crew !!!! Weather was perfect and we caught some nice yellowfin too. A 130 lb for Greg and a 177 for Gary !!! Fresh tuna all around. Good day all around !!! Thanks guys. Dave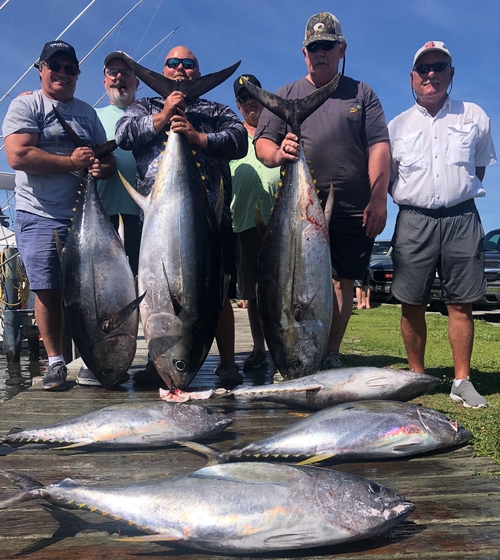 After a very choppy day with poor results Thursday we stayed to the dock yesterday with the high west winds. Today was a different story !! Thanks to Gary,, Billy and the boys. Weather was better. Water conditions were better More than a box full !!! 3 Bigeyes. Some big yellowfin including a 79 pd citation. Bigeye citations were 159 (without a tail). and 137 A number of black fins too. Good to see this and with the pretty weather coming maybe these fish will jamb out for a while. Thanks guys. Dave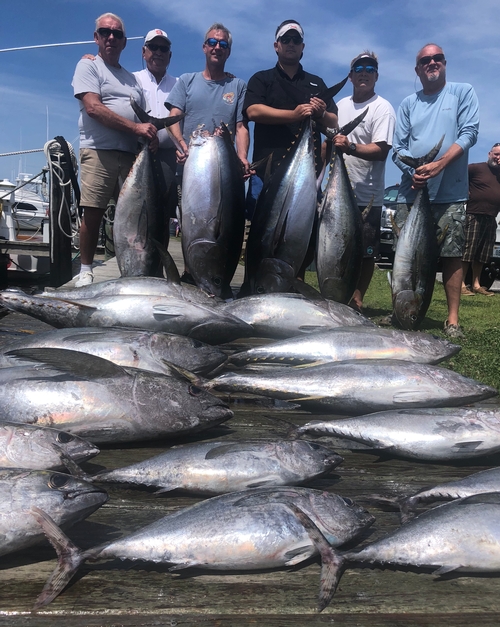 »
6/19/19 | Wednesday tunas
Thanks to Jimmy and the guys for another adventure. Weather was much nicer than yesterday and we caught a few nice tuna. 2 citation Bigeyes. A 118 pounder and a 103 pounder A few yellowfin and a blackfin as well. Nice day on the water. Thanks guys. Dave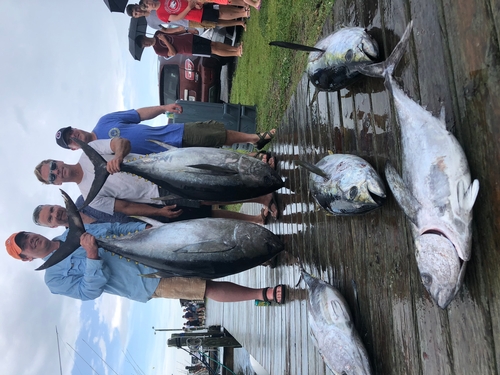 Not many bites for th fleet. Marking thousands of Bigeye on th screen. Did catch a meat slam for the 4th day in a row. Thanks to Billy Todd and Jason for their patience. Tight lines Dave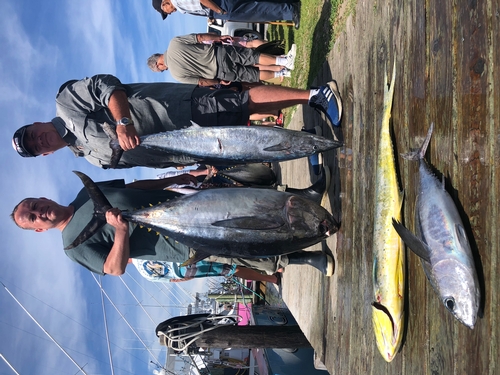 »
6/17/19 | Last 2 days. Quality bites
Yesterday Abbott and his friends picked a nice weather day for a ride near the edge of the Gulf Stream. Fishing was scrappy. Caught 2 nice yellowfin, a blackfin , a couple gaffers and a wahoo for the meat slam. Although not a hog killing , everyone went home with a nice bag of fish !!! This pic is from today. Not too many bites today either. We caught a 3 fish meat slam through the day About 145 we had the best mark of the day and we scored. A 144 Bigeye for Greg and a 138 Bigeye for Gene. What a great way to end our day !!! Tight lines Dave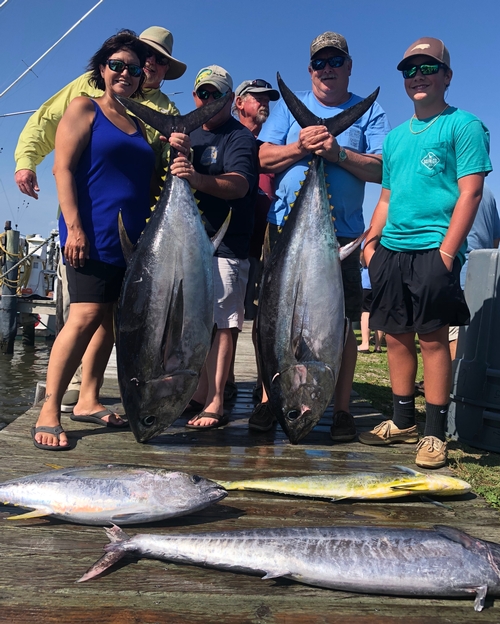 »
6/15/19 | Bigeye meat slam
Thanks to John for booking us and bringing a great crew!!! Today was a perfect weather day and I think every boat within 200 miles that floated was out there !!! We never had a bite probably the first 4 hours. Not many tuna bites to go around for the fleet. Thankfully round lunchtime we had 4 bites and caught them all. 2 NICE Bigeyes a wahoo and a nice gaffer. We were marking lots of fish's this afternoon that wouldn't respond Maybe they will get hungry tomm Anyway glad to get those nice Bigeyes Tight lines Dave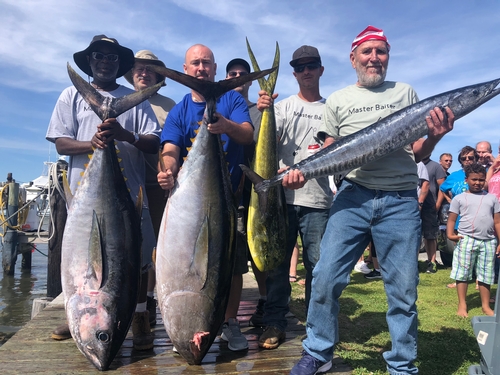 »
6/14/19 | Friday Bigeyes n yellowfin
Day 2 with my buddy Rich from Orlando. He brought his friend Shane As you can see we hit a home run !!! 6 Bigeyes. 6 or so yellowfin and some Mahi One Bigeye on the deck and home early Weather was choppy as he NW wind held on for most of the day. Looking forward to a couple pretty days !! Tight lines Dave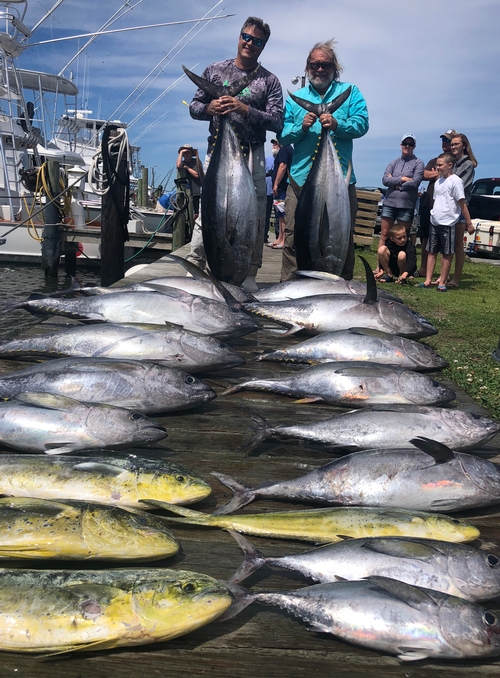 »
6/13/19 | Tues and wed report.
Tuesday my good friend Paul and his crew were back for another adventure The weather was fishable but less than ideal. We covered a lot of ground but mostly stayed in deep water looking for a few big tuna bites. A dozen gaffers and a small tuna was out catch. Got rough on the way home but we eased our way in with no problem. Wednesday I got cancelled so I took my Thursday group. Since they were already in town and the wind had fell out to almost nothing on the beach. Rich and Mark were glad to be back out there Water was a little bouncy over the edge but not too bad. We caught a few yellowfin but that was about it. Glad they have some fresh tuna for the grill. Thursday is gonna be a blow day. Back at it Friday with Rich Thanks for checking in Dave
»
6/10/19 | Great mixed bag
My buddy Junior came with another lucky crew today !!! Ride out was pretty bumpy but we made it. Picked away at gaffers all morning. Then before lunch the yellowfins hit us and we landed 4 out of 5 Then right after some awesome barbque cooked by Junior we hooked a couple good Bigeyes. It took good angling and patience then Jody and Cameron landed a 152 and a 142 !!!! Once again it was awesome to see our youngest angler Cameron winding in a Bigeye tuna !!!! Happy day !!!! Dave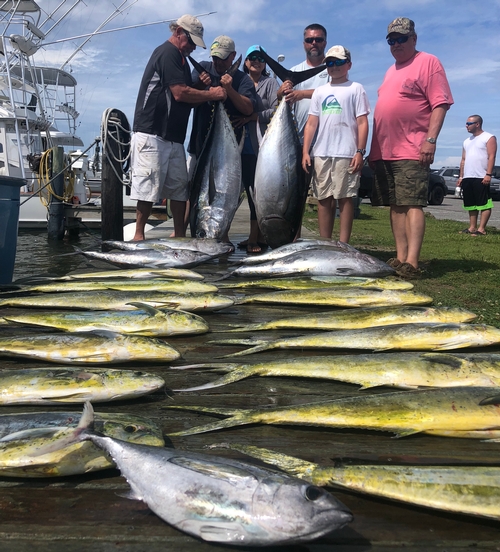 Nice to fish today with new friends Greg and his family !! Weather was ok. Slightly bouncy but not bad. We ran back to where we got em yesterday and like usual they had moved. We ended up trolling 17 miles South and finding some Bigeyes in the blue water !! 4 for 4 then 2 for 2. Box was full and we were one of the fortunate boats. Special congrats to Morgan who get the biggest one. A 150 pounder. Thanks for a fun day guys. Tight lines Dave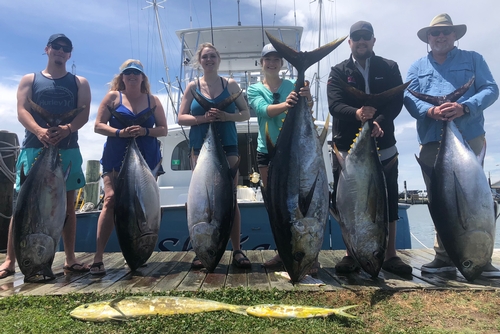 »
6/8/19 | Help out our buddy Mike !!!
Our good friend Mike Sherman from Va Beach needs our help. I donated today and I hope our Skiligal friends will help out. You can go to Mikes acute myeloid leukemia fight on gofundme. Mike is an all around first class act and a staple at the Va Beach / Outer Banks fishing scene !!! He is in the hospital and needs our assistance. Surgery is imminent. Mike has fished with us for years and always a big part of our trip. Please look up MIKE SHERMAN on gofundme and donate. Thank you. Capt Dave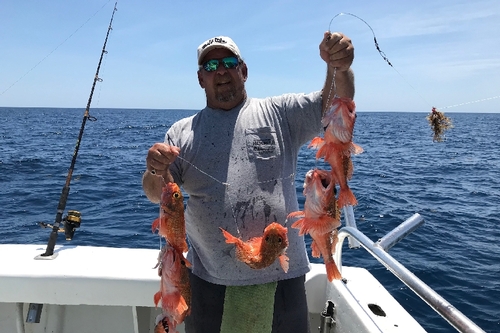 Thanks to Beau for organizing today's trip !! Weather was nice and we all enjoyed the day. We got a shot at the Bigeyes mid morning. We hooked 5. We got 2 and the sharks took care of the rest. About lunchtime we hooked a single Bigeye and 8 year old Natalie was our angler !! She had caught her first yellowfin earlier in the day and she cranked a citation Bigeye to the boat all by herself. !!!!! We were all so happy for her A really fun day. Thank you guys. Dave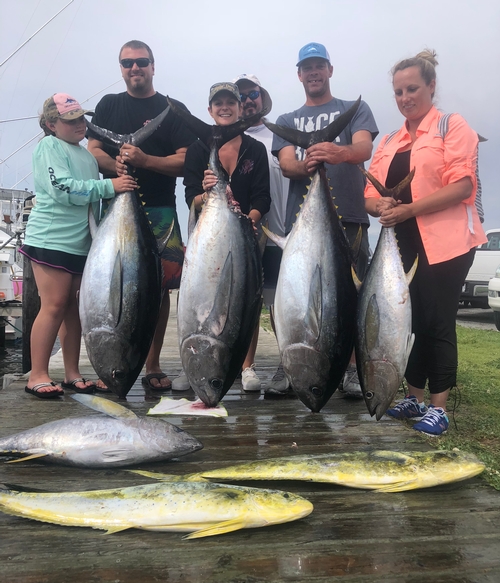 »
6/7/19 | Friday yellowfins
Thanks to my buddy Gary for bringing another great crew !! We started the day with some good yellowfin action hooking 6 and 4 at a time There were some bigeyes caught today too. But it was hit or miss. The majority of the boats probably didn't catch one. We missed one Pretty weather for a change was really nice !!!! Tight lines Dave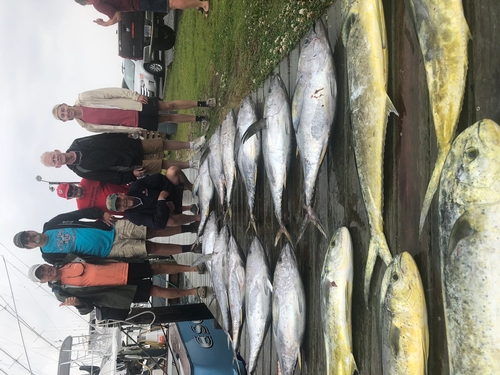 Thanks to Billy , Todd and the boys for coming last minute to fish and take a shot at the bigeyes. We caught 3 this morning. A 149 for Todd A 140 for Rambo. Good goin guys. Got a handful of gaffers and smaller tuna too Before lunchtime the wind picked up and it got very choppy. We eased our way in and everything was good. Thanks guys Dave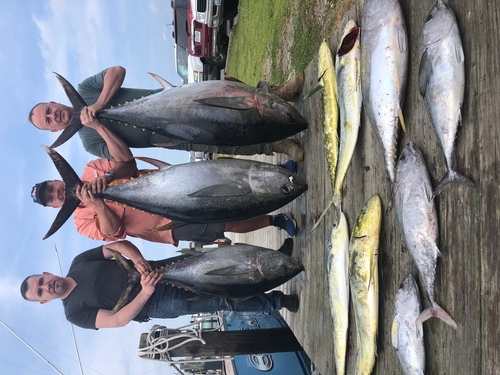 »
6/4/19 | Recent report. Bigeyes today.
Last week our mechanical issue took 2 days to resolve. Got back out Sat and sun. Fishing was scrappy. Caught some gaffers both days but not a bunch. Caught a yellowfin sat and th sharks ate the ones we hooked Sunday. Monday we didn't go due to weather and ended up working on the boat. This pic is from today. The bigeyes got after us today !!! Had a group of DEAR friends from tidewater today. It was like old times !! Good friends , food , and a full box. We all had fun. Tight lines Dave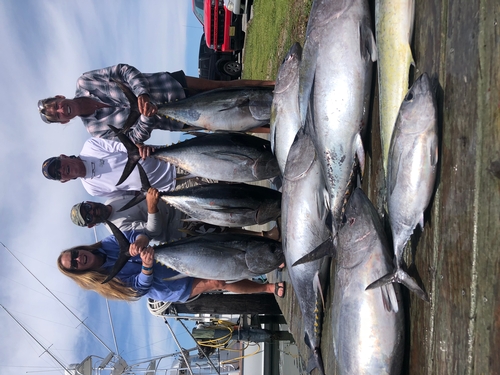 »
5/29/19 | Wednesday mixed bag
Thanks to Mike and the boys for booking us again !!! We started the day with 2 small bigeyes and then had to search. Water conditions had changed overnight and the fishing had too. We worked south and found a couple nice yellowfin, a couple pup yellowfin, a few black fin and a few nice mahi. Was pretty bumpy to start the day but got nice as the day went on Had a mechanical issue which delayed us a couple hours getting home The guys were awesome in dealing with the delay. They are very cool. We will be making sure everything is OK tomorrow with the caterpillar techs. Hopefully back at it Friday. Dave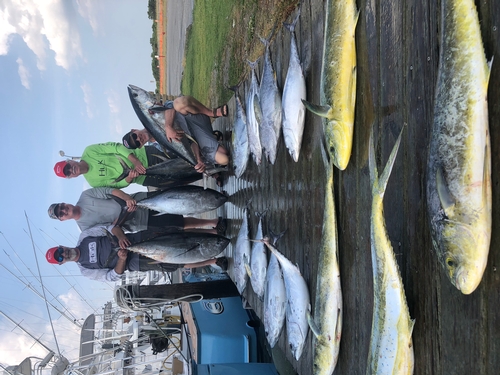 Our good friend Bob brought some more of our good friends fishing today aboard Skiligal !! The blue water had pushed up all the way east of th inlet and the bigeyes found it. A box full of bigeyes always makes Capt mate and crew happy. Round 11 am we got our turn hooking 5 and landing all 5. Good work by everyone. Mike had landed th biggest. A 140 pounder a while before that. Birthday boy Alex landed the second biggest one at just under 120. Pretty weather today too !!! Thanks guys. Lots of fun. Dave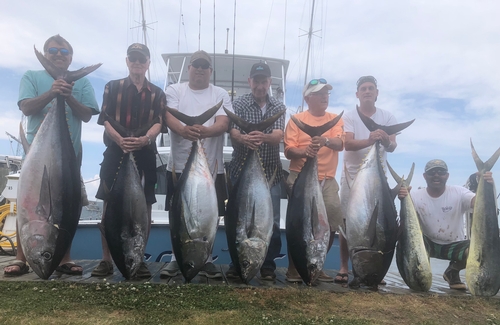 »
5/26/19 | Sunday report
Thanks to my buddy Randy for bringing another great crew today !!! We headed east to the deep water in search of gaffers. The ocean was choppy all day and the grass was scattered all over the place.but we did find some areas to fish. The gang hung in there and picked away all day at nice sized mahi !!! Thanks for everyone's great spirits !! Tight lines Dave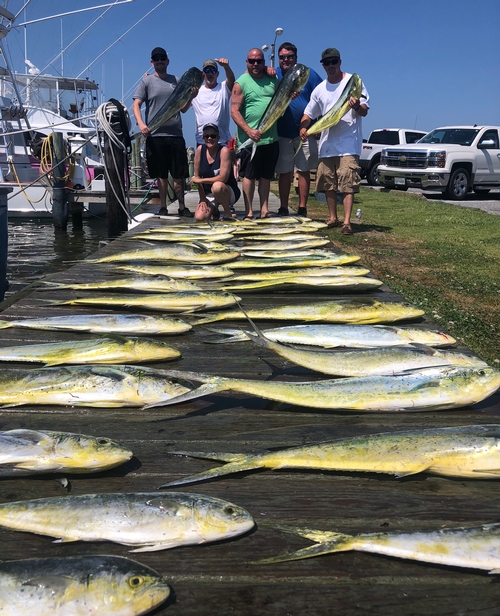 »
5/25/19 | Saturday gaffers
Thanks to my friends from eastern NC for another adventure !! Jason , Anna and the gang found a pretty day but the captain didn't find quite the amount of mahi that we have been catching. We still picked away everywhere we went and ended up with 23 We missed our pal Ronnie today!!! Ronnie get well soon my friend. We missed you buddy. Tight lines. Dave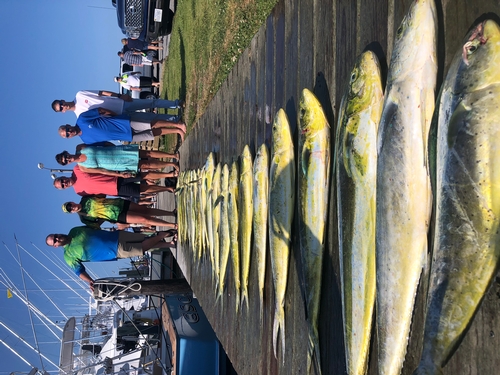 »
5/24/19 | Mahi Mahi. Many many
Great to have some of our regular friends onboard today. Darrel , Matt and the boys were tough as it was really rough Fishing was great as we caught 58 gaffers Ans home early. Good time had by all !!!! Thanks for the good food too !! Tight lines Dave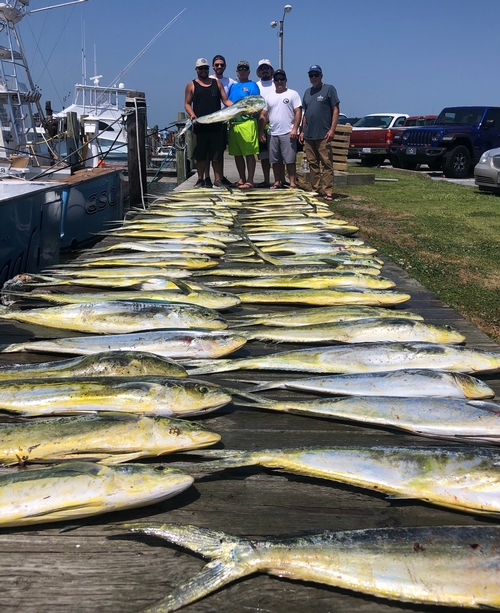 »
5/23/19 | Thursday gaffers
Thanks to my buddy Scott for bringing his family and friends on a nice weather day !!! With the calmer seas we went north and went "all in" on gaffers. As you can see we fared great. What a beautiful catch too. First one home too so not much wait on fish cleaning at all. Thanks guys. Tight lines Dave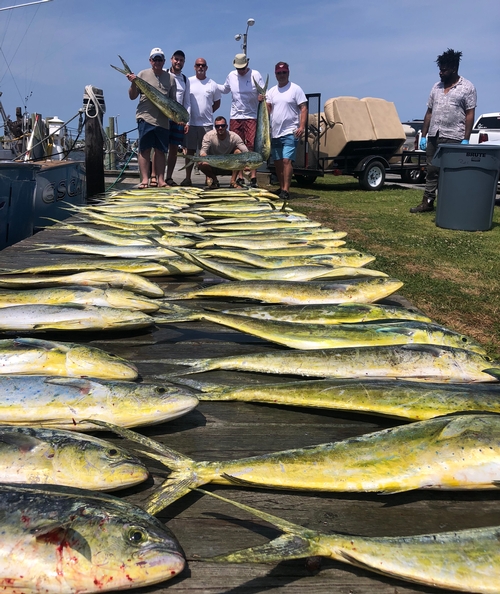 »
5/22/19 | Wednesday fishing
Thanks to our buddy Pressley for rounding up today's trip !! Fishing was scrappy where we headed down towards the point. So gkad Tyler caught his citation 119 pound Bigeye tuna !!! Pretty good water conditions but definitely choppy this morning Our guys hung in there like champs despite less than ideal offerings. Thanks guys Dave
»
5/20/19 | Monday action
Thanks to Louise for sending Mike and the boys for another adventure!!! 35 gaffers including a 40 pound citation Also a nice sailfish release today too !! Wind held off till the end of the day so that was nice. Thanks fellas Dave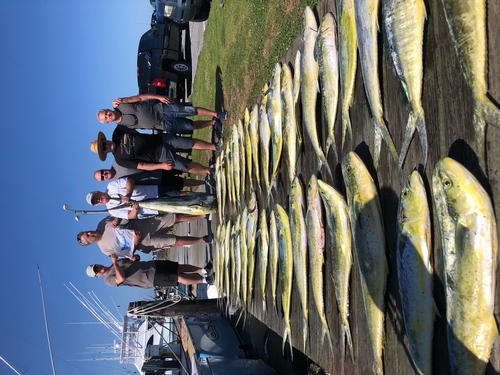 Thanks to Gary and Richard for organizing Sunday's trip. We went a long way and covered a ton of ground. Ended up with a full limit of 60 gaffer sized dolphin. We picked away all day and actually had more fish than I thought we did. Anyway a good time was had by all on the water !!! Tight lines Dave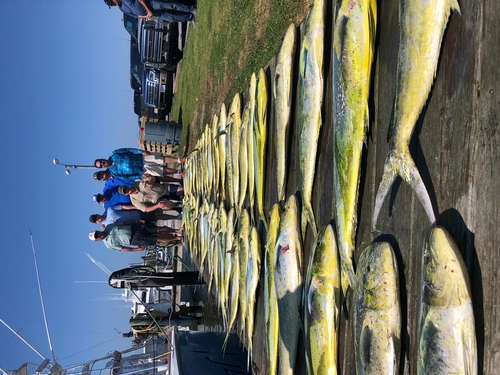 »
5/18/19 | Saturday mahi fun
Great to meet our new friends from Chicago We headed to the east end of the fleet this morning and th gaffer sized dolphin ate us up all morning. !!!!! What a beautiful catch Tight lines Dave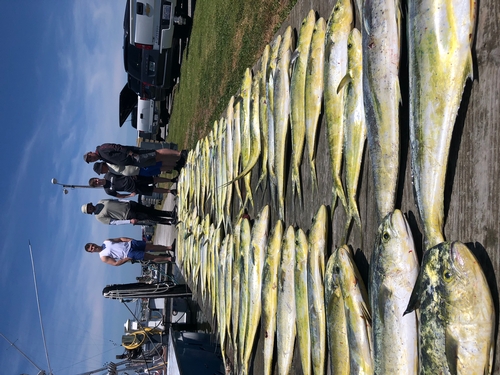 »
5/18/19 | Thursday and Friday.
We took Wednesday off the water due to rough seas Thursday our group wanted to target tuna. It turned out to be the wrong day for that as they just didn't bite. The guys had a great attitude and we did catch one nice yellowfin and a couple of gaffers for the dinner table. Friday was better for us. Had a good time with mike and the guys !!! We ran out to the deep and targeted mahi for the first half of the day Then worked our way back towards the point and caught a couple yellowfin Got rough again in the afternoon. Supposed to be more settled winds next few days. Looking forward to that. Tight lines Dave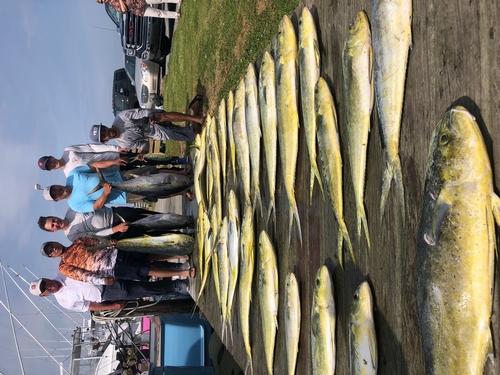 »
5/15/19 | Last few days.
Sunday was rough with the worst grass possible. Our guys were tough and understanding. We managed to catch a few yellowfin for supper Monday we found good tuna conditions and no grass and worked it hard all day My party really wanted some tuna. We caught 6 black fins and a gaffer but never had a yellowfin bite. In fact the wasn't a single one caught in th fleet. Crazy. This pic is from tues. Chris and his guys caught some yellowfins and gaffers. The sharks ate several tunas fast. We are still on the fortunate side !!! Tight lines Dave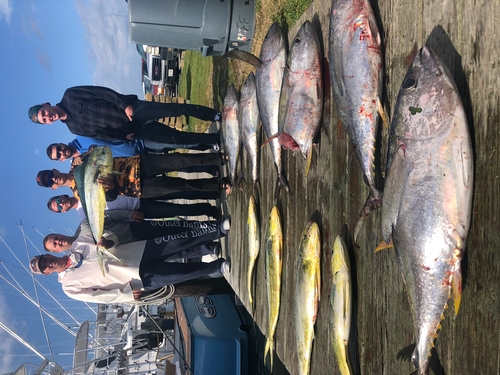 »
5/11/19 | Quality bites
Thanks to Gerard and the boys for spending the day with us We found an area of blended water this morning with no grass in the right area Turns out there were more SHARKS than tuna but the ones we caught were good. One citation Bigeye. Several BIG yellowfin. And a citation Wahoo Weather was nicer too What will tomm bring ?? Dave'