Captain Dave Peck| email: fishmedave@hotmail.com | tel: 252.475.9760
»
4/5/19 | Changing of the seasons. Getting ready for offshore.
Hope all of our friends had a blessed and safe winter this year !! Lee is busy taking care of a few little things onboard Skiligal to make her a little better. I've been in the FLA Keys this winter catching a crazy variety of fish including a bunch of backcountry tarpon like this one. We will be available to fish starting the third week of this month. And have availability before April 1 I've been having a little difficulty retrieving my messages from afar but the OIFC schedule for the boat available online is up to the minute accurate!! You can book online or call three girls at the booking desk with any questions. I'm ready for some TiGHtT LINES!! See you guys soon Dave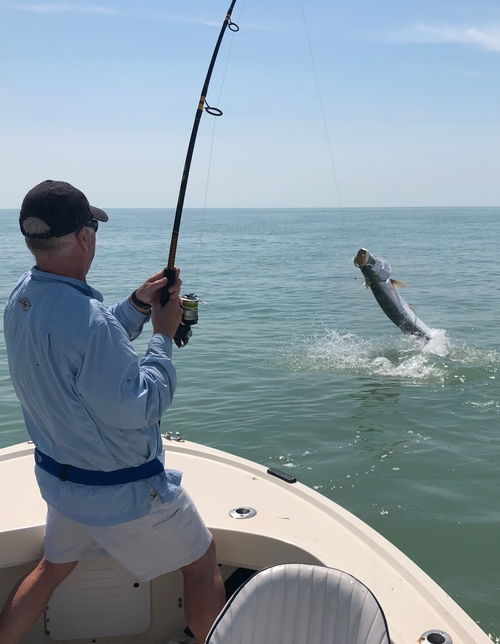 »
10/15/18 | Scrappy few days.
Water conditions have been lousy all week and fishing has been tough Ithe blue water moved up 25 miles overnight and was closer to where we need it. Thanks to Sam and his guys for fishing on Saturday. We caught a yellowfin and a handful of mahi. Sunday Gary , Richard and the boys were interested in trying for wahoo ior yellowfin. We headed south Only came up with a 40 pound wahoo and a handful of mahi. Covered a whole lot of ground. Today my long time friend Joey brought family and friends. 6 decent sized blackfin in the morning. Then we found a change and picked a nice handful of gaffer sized mahi. Hopefully the water conditions will continue to improve!!!! Thanks for checking in Dave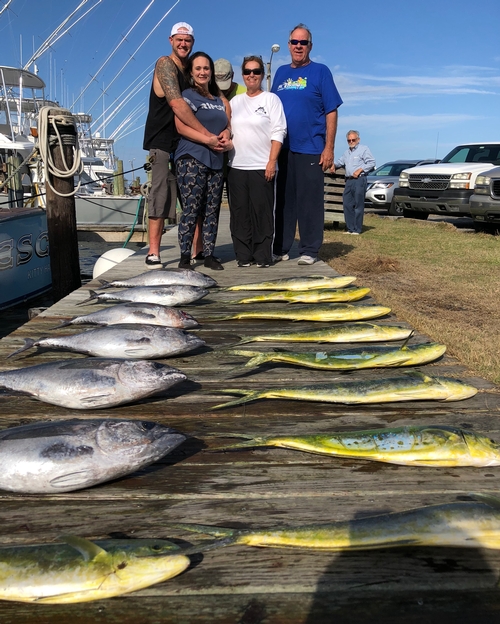 »
10/9/18 | Monday action.
Thanks to Aron for bringing his buddies from NY for a day on the water. They are all fishermen and fish in Lake Ontario !!! They were fun to hang out with and learn a little bit about their neck of the woods. Green water again and marking fish that will not cooperate. We did get a handful. Thankfully he last 3 were in the 50 pound class. Some boats that worked up east of the inlet caught some small bailer dolphin Tight lines Dave
»
10/7/18 | Sunday report
Richard and Gary were nice enough to arrange today's trip!! Brought a good bunch of fellas. We covered a ton of ground and marked many many tuna that wouldn't respond. Water was green and cloudy which didn't help !! We finally found a few that would bite in the afternoon. Weather was once again better than predicted. Thanks guys. Dave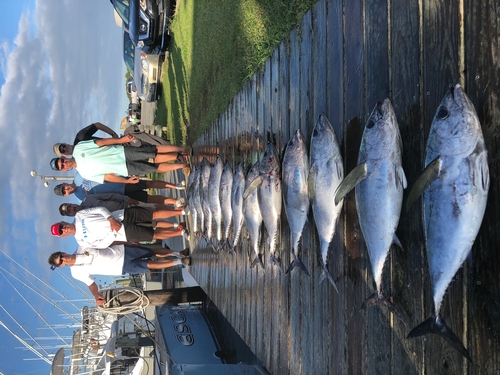 »
10/6/18 | Successful day 71 pd HOO
Thanks to my good friends Gary and Chris for organizing today's trip. We picked away and caught some nice yellowfin tuna. Special congrats to Paul on his 71 pound citation wahoo!! Weather ended up being better than expected and we all enjoyed the day for sure !!! Tight lines Dave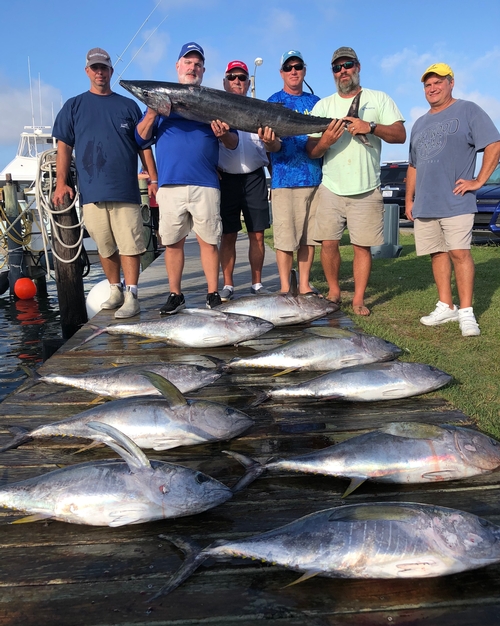 »
10/5/18 | Friday report
Thanks to team FISHCHEL for taking a journey with us today. The weather was super and we had a nice day. We had a hard time getting bites in the morning but scrapped up a good handful mid day. Mostly yellowfin for us today. Bigger fleet of boats today. A handful of boats did well. Glad to see that. We will try again tomorrow. Thanks for checking in Dave
»
10/5/18 | Wednesday report.
Great to have our good friend George and the boys for a pretty day offshore !! Fishing dropped off for the fleet. Tuna bites were hard to come by. Thankfully 3 of our 6 yellowfin were 50-60 pounds. A few mahi for the appetizer as well. We will take it. Thanks guys. Dave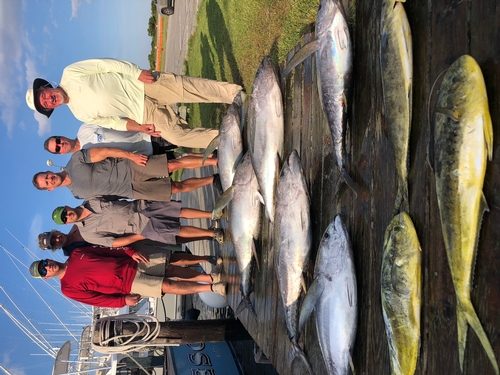 »
10/2/18 | Great overnight trip
Thanks to Billy , Todd , Nate and Phil for a great time !! Billy hit the weather really well this go around. Nice to see steady action from yellowfin. We did not get a sword bite at night but had good action from hammerhead, dusky , and yellowfin at night. Special congrats to Todd on his 70 pound curation wahoo !!!! Nice job. Truly one of the most enjoyable overnight trips I've had !! Tight lines Dave
»
9/30/18 | YELLOWFIN DAY
personal day for me so Capt Lee at the wheel and Dirty J on the deck. New friends aboard Saturday as well. Thanks to Chris for taking the time to organize the trip.!!!! Lee and a few other boats went back south where I had caught some yellowfin very late in the day Friday. It turned out they were there. Home run. Great to see them !!! Smiles all around. Thanks guys. Tight lines Dave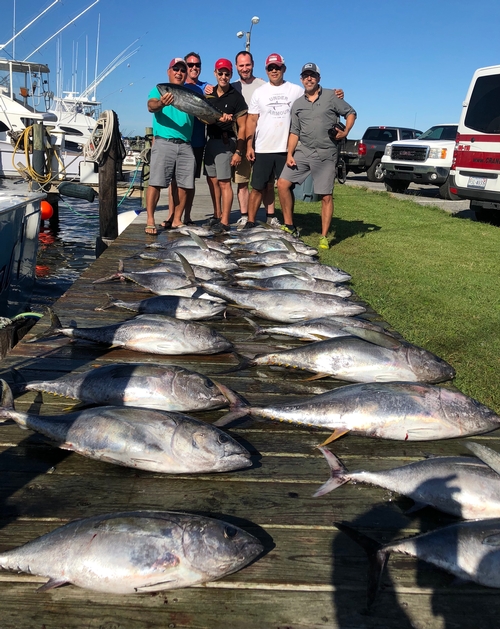 »
9/28/18 | Yellowfin and mahi.
Great to have Nabbie and the boys back for more !!! We started wnere the black fin have been biting and the conditions had changed for the worse. So we worked south. Found a nice grass line on the edge of the Gulf Stream All different sized mahi Glad to see them. Then we looked around and found a little place of yellowfin and bonitos Caught 7 yellowfin from 20 to 40 pounds. Another 9th inning rally with these boys. Thanks guys. Good fun Tight lines Dave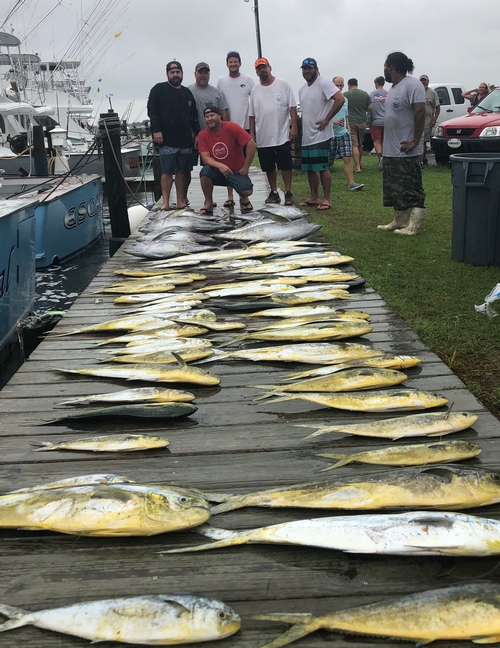 Thanks to Dustin , Doug , Jason and he boys for a successful day !! Started out a bit bumpy but was really nice the rest of the day. The black fins were biting some this morning and that was nice. We then trolled north with another boat and found a nice grass line loaded with Dolphin !!! We got our limit including a few gaffers. Later we had a couple encounters with billfish but no hook ups. All in all a great day for some dear friends / family of mine. Gotta love that. Tight lines Dave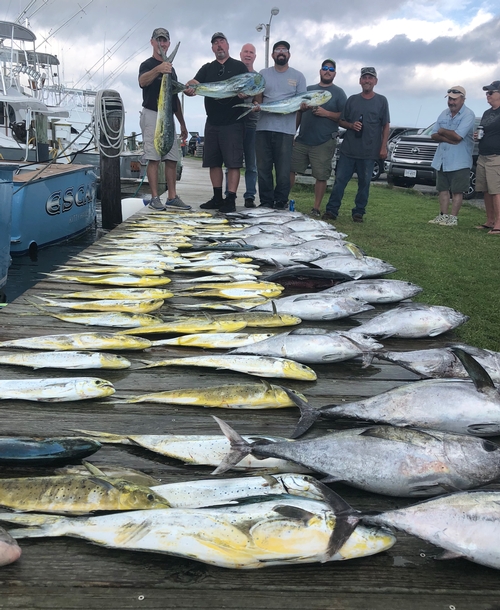 Great day today. Had Jason and Anna and crew along with my cousin onboard today. Overall a grwat day. Although there were a couple showers. The smaller tuna were biting well this morning. Caught all we wanted then fished north looking for mahi. Luckily we found a rip that turned into blue gold !! Limit of mahi. My cousin Doug ended the day with the biggest sailfish I've seen in several years !!! That was a really nice way to end a stellar day !! Tight lines Dave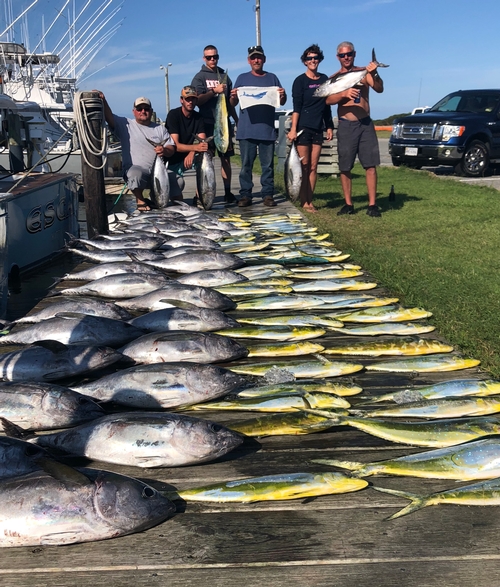 »
9/22/18 | Saturday action.
Really nice to see the Temme crew back with us again. Beautiful weather and good fishing. A limit of dolphin (one stop shopping). A dozen black fin and one yellowfin. The billfish has our number today. We pulled off 2 Blue Marlin and missed a sailfish. Dang it. Everybody had fun though. And lots of fish to eat !!! Tight lines Dave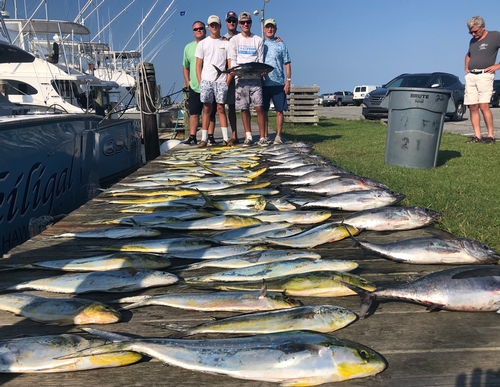 »
9/21/18 | Back in action
Great to see Ryan and his crew again. Inlet was bouncy and ride out was a little bouncy but after that a beautiful day !! Great dolphin fishing today as you can see Quite a few gaffers mixed in Got a nice wahoo and missed a white marlin. Everyone had a good time !! As far as the storm we were spared in NE North Carolina Lots of folks to the southwest and south didn't fare so well We are keeping them in our prayers Thanks for checking in Dave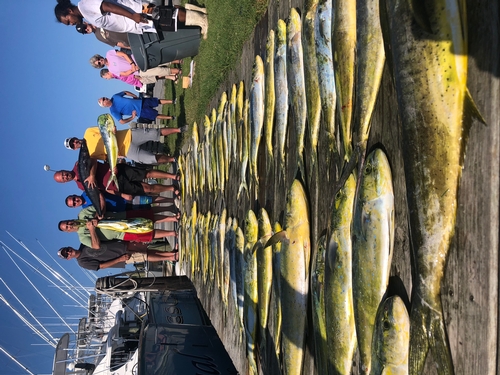 »
9/13/18 | Recent update. Hurricane PREP
Our last trip was Saturday. with my good buddy Jeff and some of his employees and friends. We fished east of the inlet hoping for a mixed bag. Fishing ended up being tough. We did catch some Dolphin but I did not get a picture. We also pulled off a sailfish and missed a sailfish. At lest the ocean was calm. Last pretty day. A few boats fished Sunday and Monday with choppy conditions. This pic is from Wednesday. We were the last one out at Bluewater as you can see. Taking up half the road. I hope everyone stays safe and I will get an update on the site after everything passes. Thanks for checking in Dave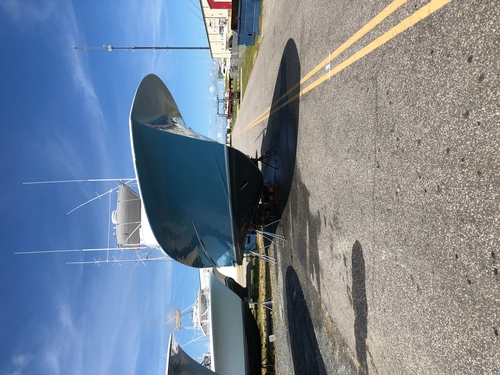 »
9/7/18 | Friday report.
Thanks to Taylor and her crew for fishing aboard skiligal today !! Capt Lee at the wheel and Dirtty J in the pit Gorgeous weather today and decent fishing. 7 tuna. A mix of yellowfin and black fin and 15 nice dolphin will go nicely on the grill and in the pan !!! We are fishing tomorrow then not sure after that what's gonna happen. We are crossing our fingers and toes in hopes Florence will veer out to sea and stay there Thanks for checking in Tight lines Dave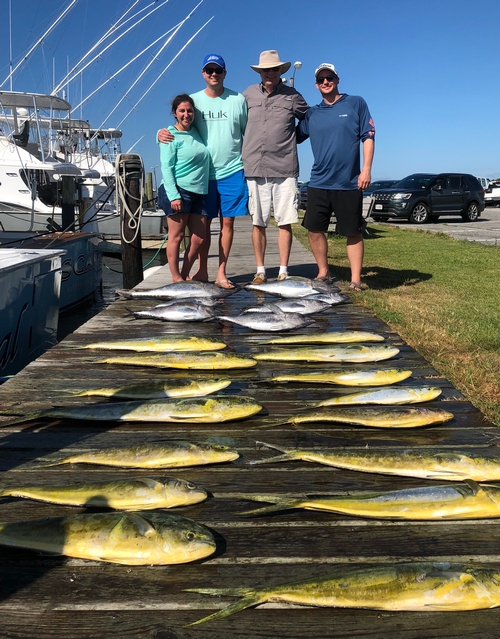 »
9/4/18 | Nice meat slam and sails
Thanks to Woody for bringing his crew fishing from the great state of West Va!! Had plenty of action today. 9 yellowfin with 7 of them being nice sized A mess of black fins. Couple of really nice gaffers and a wahoo for the meat slam !! Even released 2 SAILFISH light tackle from the pitch bait. Pretty weather and great fishing. !! We are open Thursday and Friday with good weather if anyone's interested Tight lines Dave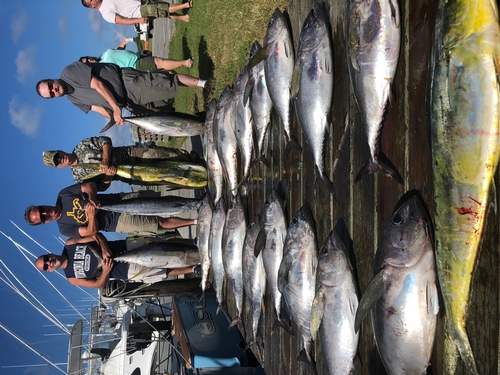 »
9/3/18 | Labor Day report.
Great to see CHARLIE and PHIL and crew back aboard the new and improved SKILIGAL. We scrapped out a catch today A couple here and a couple there. Our two youngest anglers caught a pair of 40 pound yellowfins. Nice work guys. Weather was perfect with just a light beeeze. Tight lines. Dave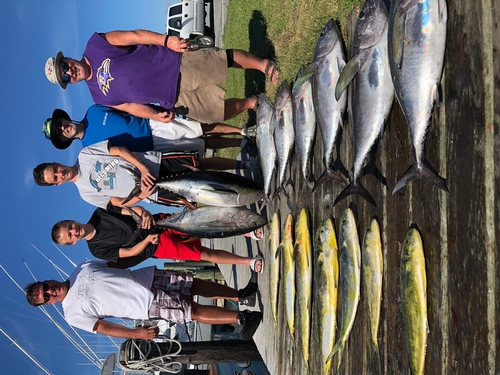 »
9/1/18 | Sails and limit of mahi
The fishing center put together a great group of guys for a make up trip aboard SKILIGAL. Couldn't get the big yelllwfin to bite today. Located some but they stayed deep. Both sails were beautiful teaser bites. Fun for sure. Caught a couple smaller tuna. Late in the day I found a piece of wood with loads of mahi. We got our limit and called another boat over and they got their limit too !!! Missed a. BLUE MARLIN TOO Darn it. Calm weather and a great day !! Tight lines Dave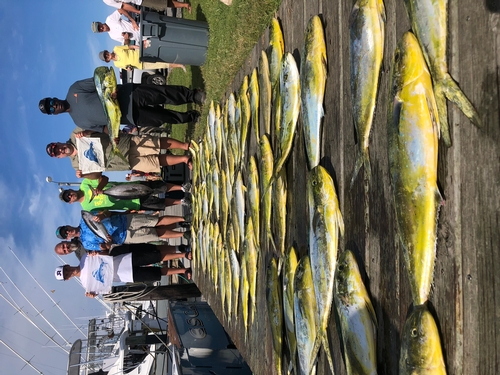 »
8/31/18 | Wed thurs fri report
Marlin fishing Wednesday and Thursday with my good friends Mark and Scott. Thursday Dan joined the crew. Marlin fishing was tough. Wednesday we caught ALL THE MAHI we wanted but never saw a billfish. Thursday Mark released a 250 pound BLUE MARLIN. !!! Dan caught a nice wahoo and Scott got a 30 pound gaffer This pic is from today - Friday. We went targeting meat fish. Great to have new friends on the boat. Thanks to Justin for organizing the fishing trip / bachelor party !!! Special congrats to Russ on his upcoming nuptials ! Nice to see some yellowfin this morning. 7 of them. 6 being 50 pounders. 4 black fins. A 40 pound wahoo and a nice gaffer for the meat slam !!! Thanks guys Dave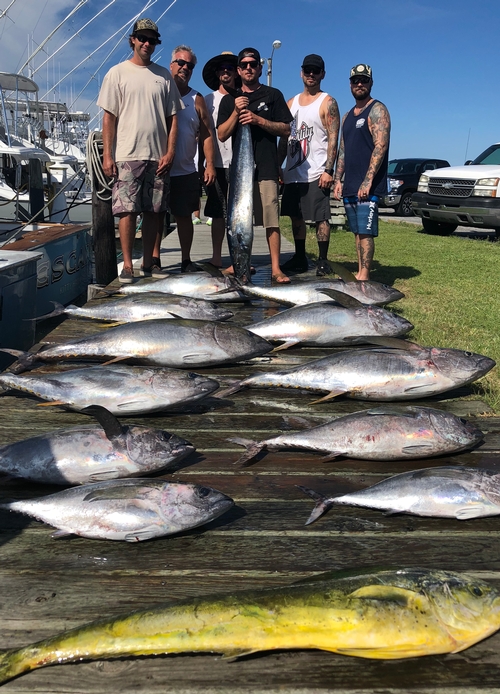 Everyone layed Thursday and fished fri and sat We had to go super far ENE of the Norfok canyon to find pretty water. Friday we had instant action but tough luck. Had six fish on in the first 45 minutes. 3 pulled off. We also missed a couple more. Then the rest of the tourney was slow for us with only 3 more bites from white marlin. We did catch a handful but not enough to matter. Congrats to Barry Sawyer and Nick on their big blue marlin and nice tourney win !! We will be back at it tomorrow for several days. Thanks for checking in Dave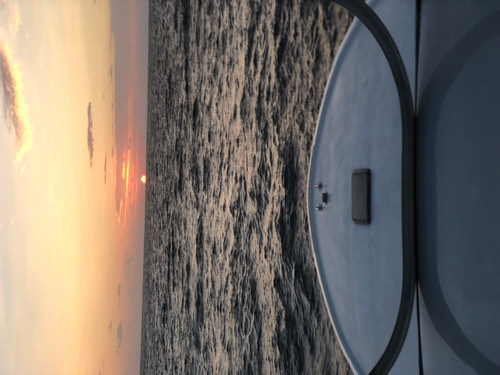 »
8/28/18 | Tuesday and Wednesday
Tuesday Randy ,Ed , Carlos , and Scott came out for a daytime swordfish Ans tilefish trip to the Norfok canyon. Unfortunately when we got out there the S wind picked up quicker than predicted making the tilefish drop impossible. We were able to make 3 drifts for swords but never had a bite. About 1 pm the conditions got so tough that we called it a day Wednesday we took the kids along the Va Beach oceanfront for some light trolling action. Plenty of blues and some nice Spanish mixed in. Love to see the kids having a good time. Dave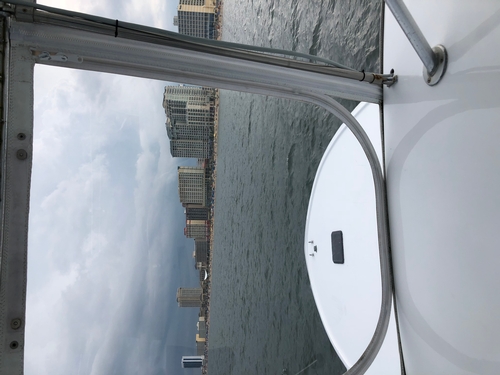 We had to wait out some storms but eventually made it to th cigar where we were targeting mahi and wahoo. The wahoo didn't cooperate but we did catch some dolphin including this 30 pound beauty Weather was beautiful one we got out there. Thanks to Randy's crew for coming fishing with Lee and I. Dave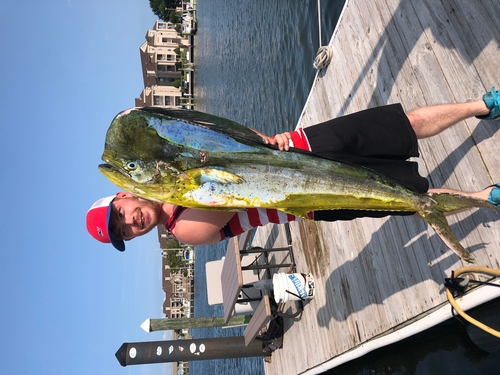 »
8/28/18 | Va. Beach ladies tourney
Missy, Rachel and Brittany had fun even though we didn't make it offshore. When we woke up it was blowing 25 at the buoy and I told them let's just fish along the beach where it's calm. The majority of the boats did the same thing Then we put on our baseball themed costumes and had some fun. Lots of money reused for cancer research !!! Dave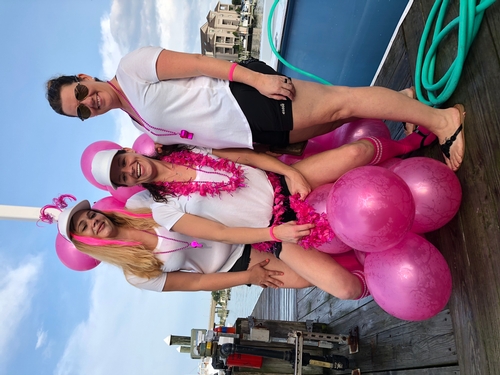 »
8/18/18 | Friday fishing
We were joined again by Chris and his crew from Tuesday !! Laid back folks with a super attitude. Wind was stronger than forecast in the morning which led to choppy seas !! It did calm down a bit round lunchtime. Fishing was scrappy. Missed a couple yellowfin. Caught 2 wahoos including a 40 pounder. 7 tuna (although not huge) will provide some meals for a while. Had a couple more wahoo bites we didn't get. We will be heading to Va Beach this weekend to fish up there this week. Thanks for checking in Dave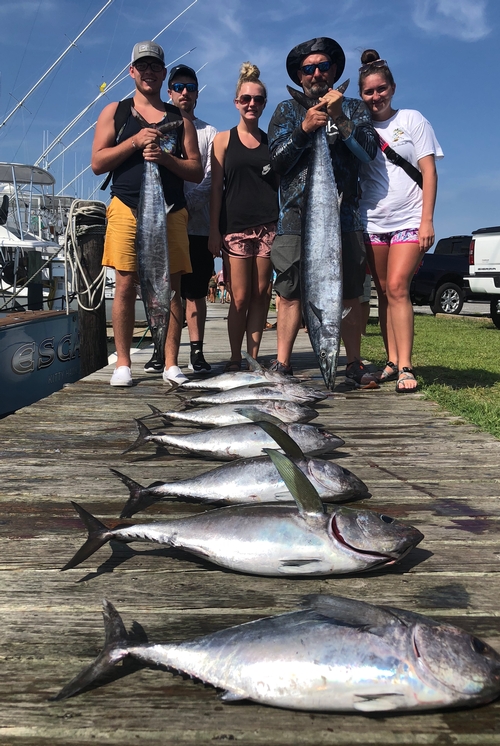 »
8/16/18 | Thursday report
Thanks to Eric for bringing a very enthusiastic crew today !! Weather was perfect. Fishing was OK Would have been better without he sharks. Sharks ate a half dozen nice yellowfin. Darn it. We did manage to get two and a half to tha boat. The guys also released a few 7 foot dusky sharks for some good action. Mid day we dropped for tiles and several were really nice sized. Thanks for spending the day on Skiligal fellas !! Tight lines Dave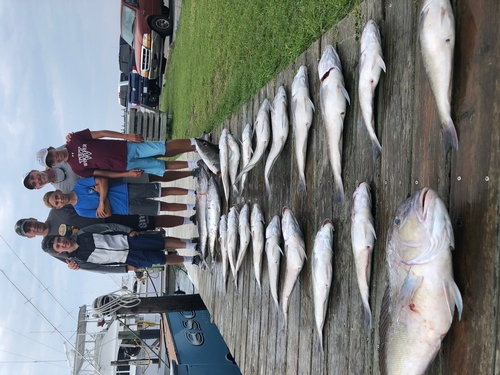 »
8/14/18 | Tuesday Double meat slam.
New friends on board today !! Thanks to Chris for bringing his family and friends fishing ! Two wahoo , five tuna and a nice mess of mahi added up to a good day !! Sharks got a couple nice ones but overall they weren't awful. Chris released a BIG dusky shark. 9-10 feet long !!! Weather improved all day and was good by late morning. Thanks guys. Tight lines Dave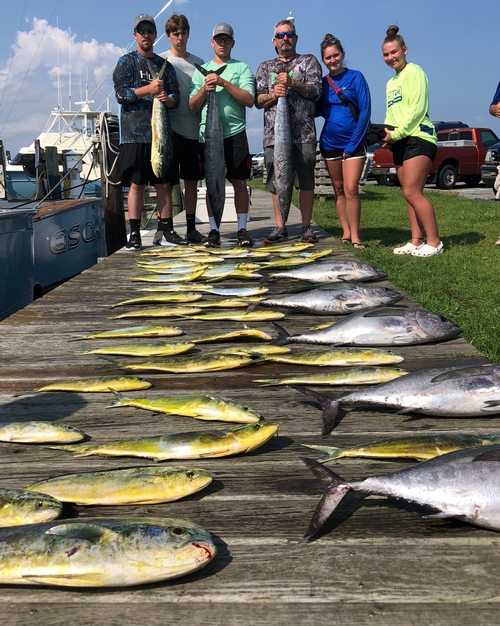 »
8/14/18 | Sat and sun report.
Saturday Randy and the boys had some good weather. Af few tuna. Couple of them nice yellowfin. The bottom fishing was pretty good once the bite slowed down. Some nice sized tiles will go nicely on the plate this week !! THanks guys. Sunday we had th girls for the ALICE KELLY BILLFISH TOURNEY. A great cause for sure. Jen and the gals did not experience ideal weather. Or ideal fishing Never saw a billfish. Out of 108 boats. 70 did not catch a bill Hopefully the marlin fishing will pick up this week for the PCT Tight lines Dave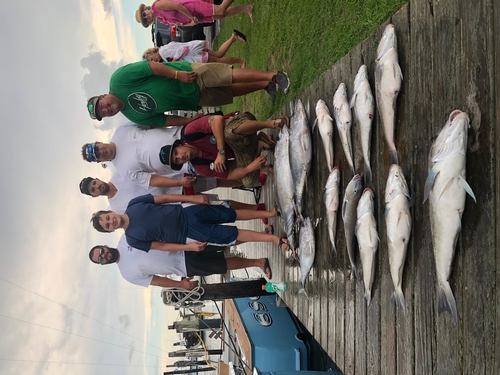 »
8/14/18 | Wednesday and Friday report.
Wednesday we got a make up group from the fishing center Unfortunately the weather wasn't too nice. Choppier than expected seas. Not a real good bite. Just a few blackfin for us. Too rough to bottom fish. Darn it. Friday weather was nice. Thanks to Ryan for the booking A handful of yellowfin in the box. They were jumping around a bit too. Bottom fishing was pretty good and the crew will be eating fresh fish for a while. Thanks guys Dave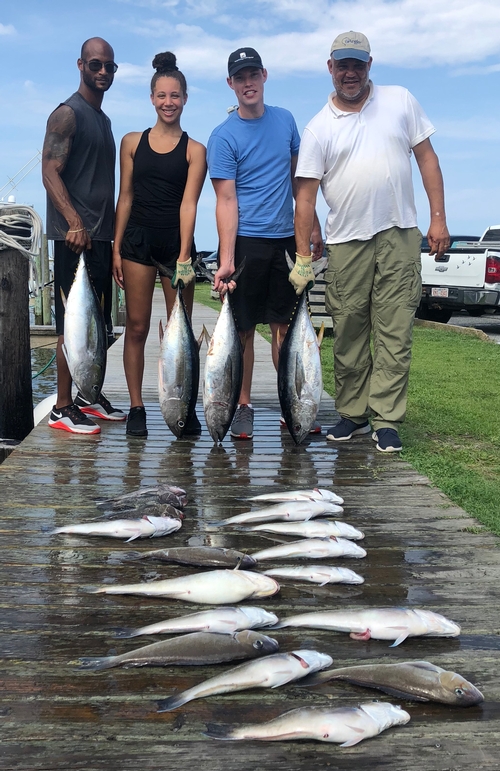 »
8/8/18 | Tuesday report
Thanks to Edward and his crew for fishing with Skiligal again !! A few more yellowfin showing up last couple of days. Glad that these guys will be eating tuna steaks for a while. Scheduled to fish 4 more times this week. Tight lines Dave